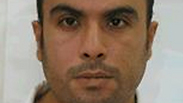 Shelly Dadon's killer, Hussein Yousef Khalifa
Hussein Yousef Khalifa, who was arrested Sunday for the murder of Afula teen Shelly Dadon, had already been in trouble with the law in the past.

Khalifa and his brother Hasib served eight months in jail in 2005 for attacking bailiffs who arrived at their house on behalf of I'billin municipality. The father and his sons threatened the bailiffs, and when they returned with reinforcements, the Khalifas attacked them.

The records from the brothers' trial show that Hussein stabbed one of the bailiffs in the hand with a knife, and his brother attacked him with a rock to the chest. The second bailiff was also stabbed and beaten. The brothers pleaded guilty to the charges, but claimed they were defending their father.

One of the bailiffs said that he hardly remembers the incident, and prefers to keep it that way.

Related stories:

"I didn't know that this man had gotten into trouble again, because I tried to forget the entire ordeal. All I can remember is him attacking me from behind, and stabbing me in the hand. I wasn't planning to sue them, but rather the municipality that hired me," said the bailiff.

In I'billin the people say that Dadon's murder suspect is a difficult man with a history of violence. But on the other hand, a relative insists that he had no connection to Shelly's killing.


"Hussein got married two years ago, and we do not believe he had anything to do with this murder. I heard about his past stabbing incidents, but that doesn't mean he is a murderer," he said.

"The police are better off looking for the real killer and not waste its time on innocent people. Only recently I heard Hussein talk about how he wanted to make a better future for his family - murderers don't usually talk about the future."

Mohammed Aasaf, the owner of the taxi in which Hussein was driving, was also arrested but released shortly afterwards.

"I was arrested by the police for unfounded suspicions, but knew that eventually the truth would come out. I have been renting taxis to drivers for several years now. The investigators told me that one of my taxis was connected to a murder case and I explained that I rent 15 taxis and I am not in a daily contact with each and every one of the drivers," said Aasaf.

Regarding Hussein, Aasaf said that, "like many people, he was slightly difficult and stubborn, but I never thought for a minute that he had anything to do with this murder. I still hope that eventually it will turn out that he is innocent.

"He rented the taxi from me for almost a year and a half, but on May 31 he came to me with his brother and said the taxi needed some repairs and to call him when it was ready. But when I called, he told me that he was not going back to work. He claimed he had a wedding to plan and other arrangements and had no time for work, and I haven't seen him since. I tried to persuade him to come back, but he refused.

"I sent my condolences from court to Shelly Dadon's family and told them, 'Whoever murdered your child is a vile criminal with no feelings or responsibility'. It is important for me to stress that not every Muslim is a murderer and not every Arabic-speaking person hates Jews. I don't hate Jews and I certainly don't hate Shelly Dadon. We are all sorry for this event and I hope the real killer is found," he added.
Deadly ride
According to the police investigation, on the day of the murder, Yaakov Dadon drove his daughter to Afula Ilit intersection from where she was to take a bus to Migdal Ha'emek for a job interview at Ramat Gavriel industrial area, but she never made it there. The investigators believe that Dadon arrived at the intersection and from there took that fateful cab ride.
During the ride, an argument broke out between the driver and Dadon, which ended with him stabbing her 17 times and killing her. Khalifa dumped her body in a deserted parking lot on the outskirts of the Migdal Ha'emek industrial area, where local policemen found Dadon's body during a routine patrol.
Dadon's father and other family members tried to contact her since 9 am on May 2, but with no success. Eventually Yaakov Dadon went to the police station to report his daughter missing. There he was asked to describe her and was informed shortly afterwards that her body had been found. He was taken to the murder scene to identify his daughter's body.
Khalifa was arrested on June 16, had been transporting workers to Migdal Ha'emek factories on a regular basis. According to the investigation, after allegedly murdering Dadon, he drove away from the scene, washed her blood from his car and threw away her mobile phone and purse near Beit Zarzir, an Arab village in the north. While the motive for the murder has yet to be ascertained, but Shin Bet believes that there was a nationalist element. The suspect confessed and reenacted the killing.
A day after Shelly's funeral, several Bedouin from the Lower Galilee were arrested after using her credit card. During shiva (the week-long mourning period) Public Security Minister Yitzhak Aharonovich hinted to the family about the arrests and claimed that a "dramatic development" was expected in the case. But the six suspects were released a few weeks later after police accepted their assertion that they had merely found the credit card, and had nothing to do with the murder.
Bad Timing
On Thursday the police asked for the gag order on the affair to be extended until July 14. On Monday, police and Shin Bet announced that the gag order would be lifted in an hour. Non-police sources claimed that the removal of the gag order had embarrassed the Northern District police as it came at the time of the arrest of six Jewish suspects in Mohammed Abu Khdeir's murder.
The sources believe that publishing the details of the breakthrough in murder investigation aims to create an equation between the two cases, when both are reported to have the same nationalist motive. On Wednesday the police are expected to file charges against Khalifa, who now claims he is innocent and that he is being framed.
Senior police official Moshe Cohen said that initially the six Bedouin men were arrested, but pretty soon it turned out they had nothing to do with the murder and only used Dadon's purse and phone after they were disposed of by Khalifa near Beit Zarzir.
"We were lucky to realize that rather quickly and turn our attention to other directions. We have given it everything we could in terms of manpower and resources.
"Once it was clear that the taxi driver was the main suspect, the case was reinforced with 20 more police detectives deployed from police's Lebanon border unit to Migdal Ha'emek, where they assisted in searching and finding the wanted taxi," said Cohen.
Hassan Shaalan, Ahiya Raved and Itay Blumentahl contributed to this report.