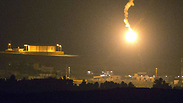 IDF attack in Gaza Strip
Photo: AFP
A total of 117 rockets were fired from the Gaza Strip at Israel on Tuesday, the first day of Operation Protective Edge. The Iron Dome missile defense system intercepted a total of 29 rockets.
Rockets fired from Gaza kept pushing northward on Tuesday night when the rocket alert siren blared in areas as far as the Sharon plains and Caesarea. It was followed by a volley of about 30 rockets fired at the same time at different areas of the country.
Before that barrage, sirens were sounded across the country, including in Sderot, Ashdod, Yavne, Be'er Sheva, Tel Aviv, Ramat Gan, Givatayim, Rishon LeZion,Kadima-Tzoran, Ness Ziona, Southern Sharon Regional Council, Ra'anana and Herzliya.
Iron Dome intercepts rocket fired at Tel Aviv (צילום: אבי חי)
Hamas claimed it fired four M75 rockets towards Jerusalem. The rocket alert siren was sounded in the capital, as well as surrounding cities Beit Shemesh and Beitar Illit.
A total of three rockets fell in the Jerusalem area. In the Mateh Yehuda Regional Council, a rocket hit in between houses. Another rocket fell in an open area in the West Bank settlement of Giv'at Ze'ev, 5 kilometers northwest of Jerusalem.
The Jerusalem municipality has opened all of its public bomb shelters.
Hamas also claimed to have fired an R-160 rocket at Haifa. There were no reports of rockets hitting the northern city.
The Iron Dome missile defense system intercepted three rockets fired over the Tel Aviv metropolitan area. Hamas claimed to have fired four M75 rockets at Tel Aviv in one attack and two more in another.
Rocket alert siren sounded in Tel Aviv (צילום: עידו ארז)
Some of the long-range rockets fired at the Tel Aviv area on Tuesday evening fell in an inhabited area. Light damage was caused to a home when a rocket hit right outside it.
The Home Front Command ordered bomb shelters opened in the Sharon plains, Beit Shemesh, Jerusalem, and in communities in the Shfela area.
Islamic Jihad video of rocket launched at Tel Aviv
Throughout the day Tuesday, Code Red rocket alerts also sounded in Ashkelon, Ashdod, Ofakim, Merhavim, Ramat HaNegev and Eshkol. The Iron Dome missile defense system was in operation in various locations, intercepting at least two rockets over Be'er Sheva, and more fired at the coastal cities of Ashdod and Ashkelon. It is also believed that at least one rocket was intercepted over Netivot.
Wedding in Holon disrupted by rocket alert siren ( )
Meanwhile in southern Israel, rockets continued raining down. A rocket exploded near the Nitzanim junction on Tuesday night. Nine rockets exploded in open areas in Eshkol Regional Council on Tuesday afternoon, and two Grad rockets hit open areas in Ashkelon. On Tuesday morning, a rocket hit an empty house in the Hof Ashkelon Regional Council, causing a fire. Two more rockets exploded in open areas between Ashdod and Ashkelon on Tuesday morning.
Magen David Adom paramedics treated nine people Tuesday in wake of the ongoing rocket fire. One person was lightly hurt from shrapnel to his foot, and another injured himself running to a shelter. Seven other people were treated for anxiety.
The Home Front Command on Tuesday instructed Israel Railways to halt train activity between Ashkelon and Sderot in both directions. The trains will begin and end their journeys at Ashkelon station until further notice.
In addition, the Israel Airports Authority announced that timings of arrivals and departures at Ben-Gurion Airport in Lod may change due to the security situation. Tel Aviv's Sde Dov Airport was closed for takeoffs on Tuesday evening, and timing of landings may change.
Earlier, after being told by Defense Minister Moshe Ya'alon that there is a possibility Hamas could use its 80km-range rockets to fire at the Tel Aviv metropolitan area, mayors of Tel Aviv, Givatayim, Ramat Gan and Rishon LeZion have opened public shelters in their city. The Rishon LeZion beach was also cleared of beach goers as a precaution.
The IDF announced the operation in Gaza late Monday night, after a day in which some 80 rockets were fired at southern Israeli communities.
"The IDF has commenced Operation Protective Edge in Gaza against Hamas, in order to stop the terror Israel's citizens face on a daily basis," the IDF Spokesman wrote in a message posted on Twitter shortly after 1am.
Hamas has vowed to strike back, threatening that its rockets would indeed reach Tel Aviv. The militant group fired rockets at Israel's commercial and cultural hub during the previous IDF operation to counter rocket fire, 2012's Pillar of Defense, but few reached their target.
The IDF has urged Israelis within a 40km (24 mile) radius of the southern coastal territory to stay within reach of protected areas and ordered summer camps shut as a precaution against rocket fire.
On Monday, more than 30 rockets were fired at southern Israel in the span of 30 minutes, and more than 80 were fired throughout the day, the IDF said. One Israeli was injured by shrapnel in Ashdod. The heavy barrage was launched from Gaza, at the same time as the funeral procession for the six Hamas members killed in a tunnel explosion Sunday night. Hamas claimed responsibility for the heavy rocket fire.
Residents of towns in southern Israel close to the Gaza Strip were also warned to stay 15 seconds from bomb shelters at all times. It was also released Monday that Iron Dome batteries had been deployed in strategic positions throughout Israel.
Hamas' armed wing threatened an "earthquake" in response to the Israeli assault.
Matan Tzuri, Roi Kais and Reuters contributed to this report