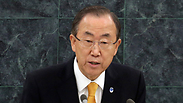 UN chief Ban Ki-moon
Photo: AP
As the first day of Operation Protective Edge drew to a close, with more than 117 rockets hitting across Israel, international leaders have issued condemnations of the attacks against Israel and expressed support for Israel's right to defend itself, but also urged restraints.

Washington backed Israel's actions in Gaza while the European Union and United Nations urged restraint on both sides.

"We strongly condemn the continuing rocket fire inside of Israel and the deliberate targeting of civilians by terrorist organizations in Gaza," White House spokesman Josh Earnest said at a news briefing.

"No country can accept rocket fire aimed at civilians and we support Israel's right to defend itself against these vicious attacks," he added.

UN Secretary-General Ban Ki-moon also condemned Gaza rocket attacks on Israel Tuesday, and called on both sides of the conflict to halt their aggression.

Ban "reiterates his call on all actors to exercise maximum restraint and avoid further civilian casualties and overall destabilization," his spokesman Stephane Dujarric said.

He added that Ban "condemns the recent multiple rocket attacks on Israel from Gaza" and that "these indiscriminate attacks on civilian areas must stop."

A similar statement was issued by British Foreign Secretary William Hague, who said he is "deeply concerned by escalation of violence" in Israel and Gaza.

"I condemn the firing of rockets into Israel by Gaza-based militants. The UK calls on Hamas and other militant groups to stop these attacks. The people of Israel have the right to live without constant fear for their security; the people of Gaza also have the right to live in peace," Hague added.

The European Union condemned "indiscriminate" rocket fire from the Gaza Strip into Israel and called for an immediate ceasefire.

"The EU strongly condemns the indiscriminate fire into Israel by militant groups in the Gaza Strip," said a statement from the office of the bloc's foreign policy chief Catherine Ashton.

"The EU deplores the growing number of civilian casualties, reportedly among them children, caused by Israeli retaliatory fire. The safety and security of all civilians must be of paramount importance."

Meanwhile, the Secretary General of the Arab League, Nabil al-Arabi called on Tuesday for an urgent meeting to be held by the UN Security Council on the backdrop of the deadly Israeli offensive on the Gaza Strip, AFP said.

In turn, France's Foreign Ministry, commenting on violence between Israeli troops and Palestinians in the Gaza Strip, urged all parties to exert restraint.

Reuters, the Associated Press and AFP contributed to this report.