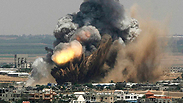 IAF attacks in Gaza: At least one killed Wednesday
Photo: AP
Israel warplanes have so far hit 550 targets in Gaza, and Hamas militants have hit back with 165 rockets, some of which struck Jerusalem and Tel Aviv and as far away as Hadera, 116 kilometers (72 miles) to the north of the coastal enclave.
Palestinian fatalities include militants but also women and children. More than 370 people have been wounded.
Palestinians claim at least 17 Palestinians were killed in IAF air strikes in Gaza on Wednesday, as Israel hit back following ongoing rocket fire at Israel, with rockets flying as north of Tel Aviv.
According to the Palestinian media, among the dead were a father and son in central Gaza, and an 80-year-old woman who died in an earlier attack.
Gaza health official Ashraf Al-Kedra said Wednesday's airstrikes killed one terroist in south Gaza, an 80-year-old woman, the son, wife and neighbor of a Hamas militant, and three others whose affiliation was not immediately known. Later Palestinians reported that following an IDF attack on central Gaza Strip, a woman and two children were killed.
At least 29 civilians, including five children, were among the 37 Palestinian dead in two days of fighting, and 230 people have been wounded, hospital officials said.
The IDF said it hit at least 120 concealed rocket launchers and destroyed 10 homes belonging to senior Hamas members, including regional commanders of the Izz a-Din al-Qassam Brigades in Rafah and Khan Yunis.
The IDF also targeted symbols of Hamas in Gaza, including the Interior Security Ministry, a naval outpost, and smuggling tunnels near the southern Gaza border town of Rafah.
According to the IDF, since the beginning of Operation Protective Edge late Monday night, IAF and naval forces have launched no less than 435 attacks on Gaza, while 225 rockets have been fired at Israel. Some 40 of those rockets were intercepted by Israel's advanced Iron Dome missile defense system, which only takes down rockets threatening populated areas.
Operation Protective Edge:
The IDF has hit more than 270 terror targets in Gaza since the start of the operation, IDF Spokesman Brig. Gen. Moti Almoz said Tuesday evening. A senior IDF source said such operations would continue until at least the evening hours of Wednesday, when additional brigades would reach the Gaza area, ahead of a possible ground operation.
At least 27 people were killed across Gaza on Tuesday, the second day of Operation Protective Edge, Palestinian officials said.
The dead included senior Islamic Jihad leader Hafez Hamed and five of his family members, who were killed in an air strike on a home in Beit Hanoun in the nothern Gaza Strip, the Palestinian Interior Ministry said.
The IDF also reportedly launched a missile at the Rafah home of Hamas military wing leader Raed al-Atar, one of those responsible for Gilad Shalit's abduction in June 2006. There were no casualties in the attack.
Reuters and the Associated Press contributed to this report