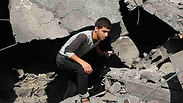 הרס הריסות תקיפה צה"ל ב רצועת עזה מבצע צוק איתן
Photo: Reuters
Jordan, one of just two Arab countries to have signed a peace treaty with Israel, on Wednesday demanded an immediate halt to deadly Israeli air raids in Gaza, raids it called "barbaric." Similar comments were made by Iran, a Hamas ally.
Meanwhile, US President Barack Obama urged both sides in the escalating conflict between Israel and Palestinians to show restraint and not act in a spirit of revenge, in a German newspaper article to be published on Thursday.
Jordan "condemns the military aggression that Israel has launched in the Gaza Strip" and calls for "its immediate halt", Government spokesman Mohammad Momani said.
He said the "barbaric aggression" had "negative repercussions on the Gaza Strip and the whole region".
"Jordan demands Israel stop all forms of escalation. The international community should actively intervene to stop the Israeli aggression," Momani said. "The Israeli actions violate international laws and obstruct peace efforts in the region," added the minister, whose country has a 1994 peace treaty with the Jewish state.
The IAF bombed 160 targets in the Gaza Strip overnight as it pressed foward with Operation Protective Edge, the IDF said. The fire escalated early Wednesday, with army radio reporting that at least five rockets or mortar rounds from Gaza were intercepted over the Tel Aviv region by Israel's Iron Dome air defence system.
Iran's foreign ministry on Wednesday condemned the raids, calling on the West to urge the Jewish state to prevent a "human catastrophe."
"We are, unfortunately, witnessing the escalation of savage aggression by the Zionists in recent days against the innocent and defenseless people of Palestine," ministry spokesperson Marzieh Afkham said in her weekly briefing with reporters.
Iran calls on "Western countries and supporters of the Zionist regime (to) take firm a stance and prevent a human catastrophe and stop the attacks," she added, while questioning an "unrealistic excuse of the kidnapping of three Zionist settlers."
Obama urges calm, world restraint
"At this time of danger, everyone involved must protect the innocent and act in a sensible and measured way, not with revenge and retaliation," Obama wrote, according to an excerpt of a column written for Die Zeit weekly. Obama made simmilar comments in an op-ed published Tuesday that appeared in Hebrew, English and Arabic
"Both sides must be prepared to accept risks for peace," read the extracts from the article which were published in German.
As the first day of Operation Protective Edge drew to a close, with more than 117 rockets hitting across Israel, international leaders issued condemnations of the attacks against Israel and expressed support for Israel's right to defend itself, but also urged restraint.
The Secretary General of the Arab League, Nabil al-Arabi called for an urgent meeting to be held by the UN Security Council on the backdrop of the deadly offensive.
An official from the pan-Arab bloc told AFP that Arabi had "instructed the Arab League's UN representative to initiate urgent consultations within the Arab group calling for an emergency security meeting of the Security Council."
Washington backed Israel's actions in Gaza while the European Union and United Nations urged restraint on both sides.
"We strongly condemn the continuing rocket fire inside of Israel and the deliberate targeting of civilians by terrorist organizations in Gaza," White House spokesman Josh Earnest said at a news briefing.
"No country can accept rocket fire aimed at civilians and we support Israel's right to defend itself against these vicious attacks," he added.
UN Secretary-General Ban Ki-moon also condemned Gaza rocket attacks on Israel Tuesday, and called on both sides of the conflict to halt their aggression.
Ban "reiterates his call on all actors to exercise maximum restraint and avoid further civilian casualties and overall destabilization," his spokesman Stephane Dujarric said.
He added that Ban "condemns the recent multiple rocket attacks on Israel from Gaza" and that "these indiscriminate attacks on civilian areas must stop."
A similar statement was issued by British Foreign Secretary William Hague, who said he is "deeply concerned by escalation of violence" in Israel and Gaza.
"I condemn the firing of rockets into Israel by Gaza-based militants. The UK calls on Hamas and other militant groups to stop these attacks. The people of Israel have the right to live without constant fear for their security; the people of Gaza also have the right to live in peace," Hague added.
The European Union condemned "indiscriminate" rocket fire from the Gaza Strip into Israel and called for an immediate ceasefire.
"The EU strongly condemns the indiscriminate fire into Israel by militant groups in the Gaza Strip," said a statement from the office of the bloc's foreign policy chief Catherine Ashton.
"The EU deplores the growing number of civilian casualties, reportedly among them children, caused by Israeli retaliatory fire. The safety and security of all civilians must be of paramount importance."
In turn, France's Foreign Ministry, commenting on violence between Israeli troops and Palestinians in the Gaza Strip, urged all parties to exert restraint.
Reuters, the Associated Press and AFP contributed to this report.