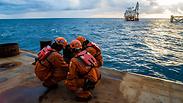 Off-shore natural gas rig
Photo: Courtesy of Noble Energy
A group of executives from Noble Energy, Inc., a company that produces natural gas from Israel's reserves in the Mediterranean Sea, cancelled their meetings with industry officials in Israel, due to the escalation of hostilities on the Gaza border.

The executives – which included David Stover, the company's president, chief operating officer and director, who will soon replace Charles Davidson as the Noble's CEO – arrived in Israel for a series of meetings ahead of the planned gas production work at the Leviathan gas field.

But due to the security situation, the executives decided to cancel meetings planned for the next two days and fly back to the US.

Noble Energy Inc. is an oil and natural gas exploration and production company based in Houston, Texas. The company holds 36% of the drilling rights at the Tamar gas field and some 39% of the drilling rights at the Leviathan gas field. Its Israeli partners are Delek Drilling LP, Avner Oil Exploration LP and Ratio Oil Exploration.

Bini Zomer, director of corporate affairs and joint ventures at Noble Energy, said in response that "the management in Houston thought it was not appropriate to disturb the system with existing topics while rockets fall across Israel, it would be better to return at a better time."