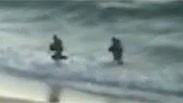 Breach Attempt into Israel on Tuesday
Photo: IDF Spokespersons' Unit
Residents of the southern Israeli town bordering the Gaza Strip received a message that "due to a severe security event in the town, you are asked to go into your homes and lock the doors."

IDF Spokesperson's Unit chief Brig. Gen. Moti Almoz said Wednesday night that a security event was ongoing in one of the southern Israeli communities bordering the Gaza Strip. He refused to comment further.

Initial reports suggest that two armed terrorists tried to penetrate into Israeli territory. The IDF detected the two men arriving on

land near Zikim from the sea.

Five armed terrorists also attempted to infiltrate Israel on Tuesday evening when they entered kibbutz Zikim through the sea. Troops from the Israeli Navy, the Givati Brigade and the Armored Corps exchanged fire with the terrorists and killed all of them.

One soldier was lightly wounded in the fire exchange.

According to the IDF, more than 225 rockets were fired at Israel since Operation Protective Edge began late Monday night. Some 40 of those rockets were intercepted by Israel's advanced Iron Dome missile interception system.

Yoav Zitun contributed to this report.