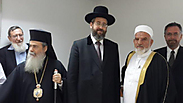 Chief Rabbi Lau with religious leaders
President-elect Reuven Rivlin, Chief Rabbi Lau, and an assembly of interfaith leader called Wednesday for an end to violence which has engulfed southern Israel and Gaza in recent days. "Stop the cycle of violence, and prevent further harm to innocent lives."

The meeting occurred at the Chief Rabbi's Office in Jerusalem. The interfaith leaders assembled included the chair of the Muslim union, Sheikh Mohammed Kiwan; Druze community organizer, Sheikh Mofaq Tarif; the Greek-Orthodox patriarch Theophilos III; the Armenian patriarch; and dozens of other religious leaders.

The gathered religious figures, including the president-elect, called for interfaith action in an attempt to stop the cycle of bloodletting in the region. "There is no disagreement on the value of peace," said Chief Rabbi Lau.

"We end every prayer with a request for peace. A number of days ago we condemned the horrible murder of a 16-year-old youth – and we must unite in condemning this murder and the murders of the three Jewish boys," he added.

Chief Rabbi Lau clarified that there was a difference between the Israeli operation and the attempts to kill civilians on the Palestinian side.

"There are times when there is no choice and we must strike," he said, "but the IDF had put in a tremendous effort and is asking people to evacuate (homes) so as to avoid harming innocent lives – unlike those who fire missiles at population centers, and hurt innocent people intentionally.

Chief Rabbi Lau ended his prayer with a call for unity. "I pray that together we will find the strength to call on everybody to maintain the vital value of life; even if there is an argument, it must be handled in an appropriate manner and not with violence, crime, hatred, or loathing."

President-elect Rivlin commended the interfaith leaders who arrived to condemn the violence. "At times when there is an absence of faith in man, there is a great thirst to hear the voice of faith."