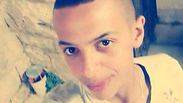 Mohammed Abu Khdeir
Photo: Reuters
Barring any unusual developments, three of the six suspects arrested for the murder of Mohammed Abu Khdeir will be released on a seven-day house arrest on Thursday, the Petah Tikva Magistrate's Court decided on Wednesday.
The three reportedly did not take an active part in the murder.
The three that remain in custody were expected to meet with their attorneys for the first time by the end of the day (Wednesday), unless the warrant barring that is extended.
Related stories:
The suspects have had close ties for many years. Among those still in custody is one 30-year-old who is suspected of driving the car during Abu Khdeir's abduction. According to those who know him, he is a dominant character that has a great degree of influence on others.
The other two still in custody are 16-year-old teens that played an active role in the murder. Relatives of the two have been recently questioned in order to determine whether the two aided in the murder, and whether they acted to hide their tracks.
The three suspects who were set to be released have denied any involvement in the murder, and they have already met with their lawyers, provided for them by Honenu, an organization offering legal assistance to Jewish security prisoners.
"We're glad that what we claimed about the suspects proved to be true," Attorney Benzi Kebler said. "Three civilians were brutally arrested without having any connection to the act. Regarding the other three suspects, we will respond after we've been allowed to meet them."
"I welcome the release and at the same breath express deep sorrow that the Shin Bet and the police held the three young people under false arrest, knowing well that they have no connection to the suspicions attributed to them," Attorney Adi Kidar said.
The six suspects, from the Jerusalem area, were arrested on Saturday and Sunday. Investigation raised the suspicion that some of them have planned the murder in advance, arrived in Beit Hanina last Wednesday in the early morning hours, kidnapped 16-year-old Abu Khdeir, tied him up in the forest outside Jerusalem and burned him to death. The murder was nationalistically motivated.
They are suspected of being members of a terror organizations, being members of a forbidden organization, abduction for the sake of murder, the murder of a minor, conspiring to commit a crime, possession of weapons and ammunition and committing a crime motivated by racism. One of them confessed and implicated the others.
Following a court hearing, some of them were sent for psychiatric evaluation.
Intelligence, along with footage from traffic cameras, light rail security cameras and municipality cameras, all aided the police in formulating the suspicions. The evidence will be given to the prosecution in the coming days.
Noam 'Dabul' Dvir contributed to this report.