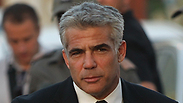 Yair Lapid
Photo: Motti Kimchi
Secretary of State John Kerry says the US is trying to stem the surging violence in Israel and Gaza in a way that allows the Jewish state to continue defending itself from Hamas rocket fire.
Kerry, in Beijing for a summit with Chinese leaders, says it's a "dangerous moment" for the Mideast.
Hundreds of rockets have been fired from Gaza since the killings of three Israeli and one Palestinian teenagers sparked tensions. Dozens of Palestinians have died in Israeli attacks.
Kerry says no country can accept such rocket attacks. But he says de-escalating the crisis is ultimately in everyone's interests.
Kerry said he spoke to Prime Minister Benjamin Netanyahu and Palestinian President Mahmmoud Abbas. The goal, he says, is to see if there is some way to restore peace.
By noon Monday, multiple rockets had been launched from Gaza at Tel Aviv and its surrounding areas, DImona, Netivot and Mitze Ramon and nearby Yeruham. Iron Dome brought down rockets over Tel Aviv's trendy Florentin neighborhood, scattering shrapnel over cars and streets.
President Peres also addressed the security situation, saying "We must say clearly that the State of Israel won't rely on luck; we are prepared and ready for any scenario in order to protect our civilians. We are a united front in the face of this danger; we will not consent to being victims."
President Peres delivered a clear message to Hamas, "We do not wish to see innocent people killed or injured, but it is Hamas who endangers the citizens of Gaza by firing from deep within civilian areas."
Finance Minister Yair Lapid said Thursday that Israel is no longer interested in reaching a mutual agreement with Gaza's Hamas rulers on restoring calm, and reiterated previous warnings that the IDF will launch a ground operation in Gaza if there is no end to the rocket fire.
"The war on terror has no end date," Lapid told Ynet. "There will always remain three people with a rocket launcher. The formula of 'calm for calm' is no longer on the agenda, and (an IDF) ground assault is still on the table."
Related stories:
"The past day has had a dimension of restoring our deterrence," Lapid said. "But deterrence is a vague term and to a certain extent psychological. Is launching 320 (IAF) strikes not a deterrent? The stance shown by the Israeli public is also a form of deterrence. In any event, in the end Hamas will say it won, but our public and theirs know the real truth."
The possibility of a ground operation, Lapid said that Hamas had to internalize the fact that Israel was not ruling out any form of military action.
"The Cabinet is operating on the assumption that we too will sustain losses. Those who are not prepared for that should not be going to war. I want Hamas to understand that we have not taken anything off the table. If they do not stop the rocket fire, then there may well be a ground operation."
The finance minister declined to comment on the political steps being taken in light of the situation, including the possibility of ultra-Orthodox parties joining the coalition. There have been calls in recent days for Prime Minister Benjamin Netanyahu to form an emergency unity government, bringing in opposition parties such as Labor.
The economic impact of Protective Edge, Lapid said, would be calculated after the operation is over.
"I do not want to commit to any figures, but I think that Pillar of Defense (in 2012) cost about four billion shekels (approximately $1 billion)," he said. "But budgetary fights start in a minus as one cannot put a price on the safety and health of the citizenry. There is no measure that Israel will not employ out due to financial considerations"
Sara Miller contributed to this article