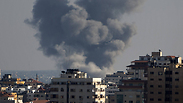 IAF strikes in Gaza
Photo: AFP
The Israeli Air Force successfully struck Alaa Abed a-Nabi, a senior officer responsible for Islamic Jihad's rocket operations in Gaza, as well as two other terrorists.

The IDF Spokesperson's Unit released footage of the targeted killing in the Gaza Strip.

An IAF aircraft fired a missile on the three Islamic Jihad terrorists while they were in a vehicle in the northern Gaza Strip around noon.

The three Hamas members were Mahmoud Valoud, Hazzam Ba'alusa, and a-Nabi. The IDF said a-Nabi was responsible for Islamic Jihad rocket operations in the northern Strip and has actively taken part the rocket barrages on Israel during IDF Operation Protective Edge, including long-range missiles.

The IDF dramatically escalated its aerial assault in Gaza Thursday, targeting Iman Siam, the head of Hamas' rocket arsenal in Gaza, as well as hitting hundreds of Hamas targets.

Palestinians reported 16 people killed in strikes that hit a home and a beachside cafe, while terrorists continued to fire rockets at Israel. Among the dead the Palestinians reported was a 5-year-old girl, three Hamas operatives and a family of seven.

The Arab-language IDF spokesperson reported that the IDF had killad Siam, but later updated their report, saying the army had hit him. Hamas' military wing, the Izz ad-Din al-Qassam Brigades denied claims from that Siam had been killed in an attack saying, "He is continuing in his Jihadist actions. We call on the media to be precise and not trust the lies of Israel."

According to Palestinian reports, as of Thursday morning, a total of 79 Gazans have been killed in attacks by the IDF since Operation Protective Edge began late Monday night.