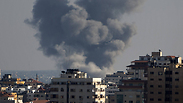 IAF strike in Gaza
Photo: AFP
Gaza's Interior Ministry called on residents to ignore the IDF's "knock on the roof" procedure – wherein the Israeli military fires a small round to signal residents to evacuate their homes before a strike.

"We call on the people to not cooperate with these messages, not leave their homes, and continue their lives."

According to Hamas' Interior Ministry, "The IDF phone messages were intended to cause panic and weaken the home front." The announcement contained hotline numbers that Gaza residents were invited to contact "if the need arises."

Hamas demanded locals to refuse the calls to evacuate their homes – some of which have hidden caches of rockets in their basements – out of the assumption that Israel would not strike residential homes, especially not in population centers.

Hamas has also tried to drum up concern by presenting a picture of mass murder, showing civilian bodies being rescued from ruined structures. Such images have in the past created international pressure on Israel to end the bombing campaign; that international pressure has yet to actualize during Operation Protective Edge.

During 2012's Operation Pillar of Defense, a residential home was bombed, killing family members including children – Hamas widely distributed the horrifying images.

At the beginning of the week, Israel bombed a house, killing six Palestinians including two children. Hamas quickly named the incident the "massacre of Khan Yunis to induce pressure on Israel. Hamas officials have claimed that citizens have been killed during the IDF strikes.

Palestinian sources say 76 people have been killed in the Gaza Strip during the current operation.

Meanwhile, IDF forces prepared on for a potential ground invasion on the border with Gaza.

Elior Levy contributed to this report.