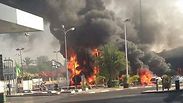 Rocket hits Ashdod gas station
Rocket fire on Israel from Gaza continued Friday night as Israel went into the Sabbath. In Be'er Sheva, a woman sustained moderate injuries when a Grad rocket hit her home at around 9pm, detonating the gas cylinders there. The 80-year-old woman's home was completely destroyed and two others were damaged. Several people were also treated for shock following the rocket strike.
Even as a ground operation by the IDF seemed more and more likely, Hamas appeared to step up its rocket attacks, with sirens blaring repeatedly in central and southern communities throughout the day.
The Iron Dome missile defense system deployed over central Israel as the sun set, bringing down rockets in the Tel Aviv area, one of which had failed to trigger a warning siren for citizens. Another rocket was intercepted over Rishon Lezion on Friday evening, showering parts of the city with debris.
Sirens sounded across the country at regular intervals throughout the day, with rockets falling in a number of locations. Iron Dome was deployed repeatedly, bringing down rockets again and again in the skies above Israel's population centers.
In Tel Aviv, the alarms began at around 10:45 in the morning, when Iron Dome intercepted three rockets over the city, causing debris to strike a synagogue. Also Friday, a rocket exploded on a street in the Merhavim Regional Council and a mortar shell fell in the Eshkol Regional Council, both striking open territory and causing no injuries.
In the evening hours, a total of six rockets slammed into southern Israel, with three exploding in areas outside Be'er Sheva and Bnei Shimon Regional Council, and another three falling in open territories outside Sdot Negev.
Sirens had sounded Friday morning across central Israel, including at Ben-Gurion International Airport. The Hamas military wing warned airlines Friday that it intends to target the airport and told them not to fly there.
"In the light of Israel's ... attacks on the residents of Gaza Strip ... The armed wing of Hamas movement has decided to respond to the Israeli aggression and we warn you against carrying out flights to Ben Gurion airport, which will be one of our targets today because it also hosts a military air base," a statement from Hamas said Friday.
The militant group said it had issued the warning to the airlines so that they could avoid injury to their passengers.
But airlines have actually been re-routing flights to Ben-Gurion Airport. As a precaution from long-range rockets fired at central Israel, flights departing from the Sde Dov Airport in Tel Aviv on Saturday and Sunday will instead be departing from Ben-Gurion Airport, Israeli airlines Israir and Arkia said Friday.
Hamas said that the rocket barrage at central Israel was their first deliberate attempt to hit Ben-Gurion Airport. The organization said that four M-75 rockets were fired at the airport.
But projectiles launched by Gaza militants are largely inaccurate and there have been no reports of any landing in or close to the airport, located in an area covered by the Iron Dome system.
A spokesman for Israel's Airports Authority said that a siren sounded at Ben-Gurion and that all activity had stopped for about 10 minutes, but that the siren was part of a general alert in the Tel Aviv area and not a direct threat to the airport.
Downing rockets
In addition to the alerts in Tel Aviv, sirens sounded Friday morning in other parts of central Israel, including Givatayim, Ra'anana, Herzliya, Rishon Lezion, Bat Yam, Rehovot and other communities.
In Rehovot, the municipality announced that a "silent wave" would be aired on the radio on 93.3 FM. The station will remain silent uintil an emergency announcement is made.
Ra'anana is starting a program to temporarily house families from the south living with constant rocket fire with volunteers in the city. Those interested in volunteering can call the hotline number *9107.
Tel Aviv residents enthusiastically photographed rocket debris and even picked up smaller bits of shrapnel. Security forces are warning against nearing shrapnel, saying it poses a danger.
A synagogue in Tel Aviv, which had been closed for renovations, was hit by shrapnel of one of the rockets intercepted by the Iron Dome. No one was inside the synagogue when the shrapnel fell.
The synagogue's manager, Michael Biton, said that renovations had just finished.
"There was a cleaner here this morning right when it happened. She started cleaning, heard the siren and left (to take cover). Just as she left, the rocket (shrapnel) fell, and fortunately she was saved."
South still under heavy fire
In the south, rocket fire also continued unabated Friday, although there were no injuries. Iron Dome intercepted three rockets over Ashdod and Gan Yavne.At around noon, a house in the Eshkol Regional Council suffered a direct hit from a mortar. The house's residents were inside their safe room and were unharmed.
Rockets were later fired towards Ashkelon and its surrounding areas, which were also brought down by Iron Dome. Similarly, two rockets were intercepted in the Sdot Negev Regional Council, and three in the area of Ashdod and Gan Yavne.
On Friday morning, shortly before the attack on Tel Aviv, a rocket fired from Gaza hit a house in Sdot Negev. Damage was caused to the house and to nearby vehicles, but no one was hurt. Another rocket was found on a grassy area in the community.
First serious injury
Friday also saw the first serious injury caused by rocket fire since the start of Operation Protective Edge last Monday night. In Ashdod, a man was hurt when a rocket scored a direct hit on a gas station on Friday morning, causing a massive fire.
Rocket hits Ashdod gas station (צילום: ירון שרון)
Firefighters and Magen David Adom medical personnel were deployed to the scene. Magen David Adom reported that several people had received medical treatment at the site, including the man in serious condition. Seven others were lightly wounded by the rocket.
The man, in his 50s, was unable to flee his car when the rocket hit the gas station. Cars around him caught fire, and rescue units had to pull him out of the car, before it too caught alight. He suffered burns and wounds to his hands and was taken to Kaplan Medical Center in Rehovot.
Prior to the rocket hit in Ashdod, rocket alert sirens were sounded in Nes Tziona, Rehovot, Gan Yavne, Netivot, Kiryat Malachi, and the Sha'ar HaNegev and Hof Ashkelon regional councils.
Overnight, Code Red rocket alert sirens were sounded in southern cities and communities, including the Hof Ashkelon Regional Council, Sderot, Sha'ar HaNegev, Ofakim, Merhavim Regional Council, Netivot, Eshkol Regional Council, Ashdod and Ashkelon.
Rocket alert sirens were also sounded in central Israel - in Nes Tziona, Rehovot, Gan Yavne and Rishon LeZion.
Rockets fell in open areas in Netivot and Eshkol. The Iron Dome missile defense system intercepted rockets fired at Ashkelon.
Reuters contributed to this report.