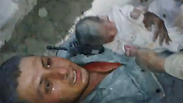 The Arab media on Saturday morning aired this astounding video of a two-month-old baby being pulled from a small space in the rubble of a building in Aleppo in northern Syria.

The footage, provided by opposition forces, apparently shows the rescue of the baby after she was caught in an attack by the Syrian regime on the al-Ansari neighborhood of the city.

"After more than 16 hours, civilian defense forces in Ansari were able to rescue the two-month-old baby and also her wounded mother," said the Syrian opposition.