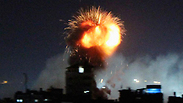 IAF attack on Gaza
Photo: Reuters
As rocket fire from Gaza almost completely stopped for several hours Saturday morning, the IDF completed preparations for an initial ground incursion into the Strip and now only waits for orders from the prime minister and defense minister.

It's been revealed to Ynet that even amid the fight between senior government officials there is almost complete consensus that a ground operation in Gaza is necessary in order to deal a devastating blow to the infrastructure of terror - a blow that will have long term affects.

However, Major General Amir Eshel, commander of the IAF, is trying to convince the Chief of Staff and Defense Minister that the Air Force can accomplish the same goals itself, destroying Hamas' rocket manufacturing capabilities and striking smuggling tunnels used by terror cells.

Related stories:

The Air Force commander claims that the methods of attack, quality intelligence, the ability to hit multiple targets in a short amount of time and precision guided weapons, can be effective no less that a large scale ground offensive which is bound to involve heavy losses and many errors.

Eshel's opinion has been at least partially adopted and the prime minister, defense minister and chief of staff are giving the IAF free reign to act according to the strategy that he has presented.

Along those lines the IDF continued the full pace of attacks on Friday night and Saturday morning and even increased the attack on the houses of Islamic Jihad and Hamas commanders all over the Gaza Strip.

According to the intelligence results, this strategy is, at the moment, considered to be efficient and effective on terrorists' will to fight. Among its targets the IAF attacked a mosque in central Gaza that was being utilized as a rocket storage facility and military asset to Hamas.