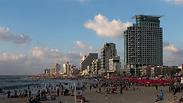 Tel Aviv promenade
Photo: Yaron Brenner
Tel Aviv's 'Golden Mile' – playground for the rich
Israel's most expensive real estate deals can be found on a small strip of land: International media has nicknamed Tel Aviv Promenade 'the Golden Mile' due to the millions that oligarchs are paying for luxury apartments with sea views. Just like Monaco and the French Riviera, NIS100,000 per square meter is considered a reasonable price. Here's a glimpse.
It's just a one mile-long strip of land, stretching along Herbert Samuel St. in Tel Aviv from the Dan Hotel to the David Intercontinental Hotel. But this mile-long piece of land, almost on the beach itself, is currently home to a number of Israel's most luxurious real estate projects, currently in advanced phases of construction. A recent CNN article dubbed this area, located between Jaffa to the south and Yarkon St. and the Tel Aviv Port to the north, "the Golden Mile" for real estate.

"The coastline in almost every developed country has advantages and is associated with wealth," says Noam Dzialdow, CEO of Neot Shiran, a high-end real estate company, about the growth in real estate along Tel Aviv's coast. "Tel Aviv is becoming more and more of an international city and just like the interest in real estate in places like the French Riviera, Monaco and the Italian Riviera, foreign residents are showing interest in the Tel Aviv coastline."





Just to understand the comparison Dzialdow is making – in Monaco, a 310 square meter, 4-room apartment overlooking the sea can cost investors €21.9 million, and a 220 square meter apartment can run €8.5 million. On the French Riviera, a 280 square meter, 5-room apartment may cost €12.7 million.

Dzialdow explains the multitude of projects on Tel Aviv's coast is due to vacant land available for building, while in north Tel Aviv no land is available at the moment. "Until the Sde Dov airport is moved there won't be any vacant land in the city's north for new real estate with a sea-view," says Ohad Dannus, head of the Israel Real Estate Appraisers Association, "but for foreign residents it doesn't really matter, so long as they have money to spend – and every real estate project immediately sets record prices. The real estate market on the promenade seems to be influenced more by what is happening in the world than what is happening in the city itself."

Most area real-estate developers estimate that the construction on the majority of projects will be completed within three years. According to Dzialdow, however, the developers are struggling to get the necessary building permits from the Tel Aviv municipality and, in the meantime, are selling apartments on paper. "It's hard to get the permits and it takes a long time," he says, "Construction on Herbert Samuel will come in dribs and drabs – every three-four years a new tower will go up."

So, which projects can we see on the Golden Mile? Among the better-known projects is "10 Herbert Samuel" by Ofer Investments, owned by the Ofer Brothers Group, which should be completed next year. In 2013, Liora Ofer, the controlling shareholder, sold one of the project's mini-penthouses for NIS 47 million to businessman Gaby (Gabriel) Taman, at a price of 100,000 NIS per square meter; a few months ago, a penthouse in the same project sold for no less than NIS 120 million, or NIS 140,000 per square meter, to Canadian real estate mogul Sylvan Adams.

This year, the "David Promenade Towers" project, located between Herbert Samuel St. and Yarkon St. sold a 600 square meter apartment for NIS 81.5 million, or NIS 120-130,000 per square meter. Another new real estate project in the Herbert Samuel-Yarkon area, which has been inhabited for a year, is "Sea One." Four years ago, its penthouse sold for NIS 110 million, or about NIS 100,000 per square meter.

"For apartments with a sea view, we're talking about prices of NIS 100,000 per square meter, or about NIS 10 million for an apartment that's only 100 square meters," agrees Samuel Van Kote, a broker with Neot Shiran. According Dannus, this price is reasonably for the area. "You have to understand that the biggest bubble of all is here. It's an unparalleled real estate gem, so people are willing to pay top dollar for real estate here – even though it's not clear that prices will rise in the future. Even so, they will retain their high value relative to other projects in Tel Aviv."

The vast majority of those interested in luxury apartments on the Golden Mile are foreign residents and businesspeople who see the enormous advantage of being in close proximity to the hotels. Those buying the apartments come from France, Britain, Belgium, South Africa, and the United States and there are also quite a few Israelis from the high-tech industry.

"Seventy-five percent of the buyers in these projects are foreign residents, some of them live permanently in Israel and some of them visit. These are the people who believe in long-term real estate investments in Israel. Furthermore, we are talking about people who do business in Israel – this is an area that is sought after for business deals," says Dzialdow.