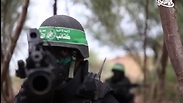 Both Israel and the Palestinians - and their respective supporters - have produced videos of solidarity during the current conflict, garnering thousands of viewers as side seeks to make its case.
On the Israeli side, a series of videos focuses on the plight of civilians who have scant seconds to reach safety when Hamas fires a barrage of rockets from Gaza.
Even the fastest man in the world couldn't make it to a shelter in time, says one video.
Another video shows the dilemma of a mother who must look after two children when the siren sounds.
Palestinian videos, however, adopt a more militant tone.
Despite playing a major role in previous attacks on Israel, Fatah's military wing, the al-Aqsa Martyrs Brigades, has not been active in firing rockets in the current round of fighting. Nonetheless, the group released a video showing one of their members taking aim at Israel, although the video appears to be from two different scenes, including what appears to be footage of a Hamas rocket attack.
The Hamas military wing, meanwhile, has produced its own music video, full of Hebrew errors. In the clip, the creators sing of Israel as "a state of weakness and agitation" as a collection of images of rockets plays on the screen.
In a separate video, the group shows off snipers, anti-tank missiles and anti-aircraft batteries, with the tag-line, "the start of the hour of revenge."
Elior Levy and Roi Mandel contributed to this report