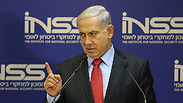 Netanyahu
Photo: Yaron Brener
Prime Minister Benjamin Netanyahu warned Sunday that any nuclear deal leaving Iran with the capability to enrich uranium would be "catastrophic."

"It would be a disaster for the United States and for everyone else," Netanyahu said as a deadline loomed for an agreement on Iran's disputed nuclear program between the West and the Islamic Republic.

Netanyahu's comments in an interview with Fox News Sunday came as foreign ministers of the United States, France, Britain and Germany gathered in Vienna to face off with Iranian counterpart Mohammad Javad Zarif.

A six month interim deal with Iran expires July 20 and US Secretary of State John Kerry said "significant gaps" remain before a final deal can be reached.

Netanyahu warned that "a bad deal is actually worse than no deal," defining that as one in which Iran would keep enriched nuclear material and the capability to further enrich uranium in return for monitoring by international inspectors.

"I certainly hope that doesn't happen. I think it would be a catastrophic development, because you know the Middle East is in turmoil, everything is topsy-turvy, the worst militants, Shiites and Sunni radicals are vying with each other who will be the king of the Islamist hill," he said.

"If any one of these sides get their hands on nuclear weapons, all bets are off."
No breakthrough
But joint efforts by Kerry and his counterparts failed to advance faltering nuclear talks with Iran on Sunday.
"There has been no breakthrough today," said British Foreign Secretary William Hague after meetings with Kerry and the foreign ministers of France, Germany and Iran.
"We're working, we're working, we just got here," said Kerry, chiding reporters asking about progress as Sunday's meetings wound down.
But the dispute over Iran's enrichment program appeared to be defying the Western foreign ministers' combined diplomatic muscle.
Tehran says it needs to expand enrichment to make reactor fuel but the US fears Tehran could steer the activity toward manufacturing the core of nuclear missiles. The US wants deep enrichment cuts; Iran wants to greatly expand enrichment.
"There is a huge gap" over enrichment, said Hague, in comments echoed by the other foreign ministers.
Steinmeier and French Foreign Minister Laurent Fabius left Sunday, a few hours after they arrived.
Kerry and Hague stayed on for another day of diplomacy. Still, the dispute and other differences strongly indicated that six world powers and Tehran will need to continue negotiations until July 20 and could decide to extend their talks past that informal deadline for a deal.
Such an agreement would buy time to negotiate a pact limiting the scope of such programs in exchange for a full end to nuclear-related sanctions against Tehran.
"Obviously we have some very significant gaps still, so we need to see if we can make some progress," Kerry told reporters before a meeting with European Union foreign policy chief Catherine Ashton, who is convening the talks.
"It is vital to make certain that Iran is not going to develop nuclear weapons, that their program is peaceful. That's what we are here trying to achieve."
French Foreign Minister Laurent Fabius said "positions are still far apart," and the ministers had come to "try to narrow differences."
Steinmeier said he and other Western foreign ministers had made clear in meetings with Iranian officials that "the ball is Iran's court."
"It is now time for Iran to decide whether they want cooperation with the world community or stay in isolation," he told reporters.
The show of Western unity notwithstanding, Kerry's presence was most important. With the most significant disputes between Washington and Tehran, his visit gave him a chance to discuss them directly with Zarif.
Lower-ranking officials represented both Russia and China, possibly reflecting their view even before Sunday that talks past July 20 are unavoidable.
But Iranian Deputy Foreign Minister Abbas Araghchi suggested any extension would be relatively short, saying "there is not much willingness" by either side to go a full six months. He, too, earlier spoke of "huge and deep differences."
Iranian hardliners oppose almost any concession by moderate President Hassan Rouhani's government. In the US, Republicans and Democrats have threatened to scuttle any emerging agreement because it would allow Iran to maintain some enrichment capacity.
Outside the negotiation, regional rivals of Iran, including Israel and Saudi Arabia, are extremely skeptical of any arrangement they feel would allow the Islamic republic to escape international pressure while moving closer to the nuclear club.
An interim deal in January effectively froze Iran's program, with world powers providing sanctions relief to Tehran of about $7 billion. The two sides also agreed to a six-month extension past July 20 for negotiations to reach a comprehensive deal if necessary.