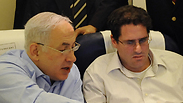 Netanyahu and Dermer
Photo: GPO
The rocket alert siren interrupted Israeli Ambassador to the US Ron Dermer's interview on CBS's "Face The Nation" on Sunday, in a vivid demonstration of what life is like in Israel under rockets threat from Gaza.
Dermer told interviewer Bob Schieffer about a smartphone app that plays out the rocket alert siren the moment it is sounded in Israel, and tells the user where in Israel the rocket is headed.
Not long after that, Dermer's phone sounded the alarm. "The rocket is heading for Gedera, where my mother was born," Dermer told Schieffer.
Prime Minister Benjamin Netanyahu also gave interviews to American media on Sunday, rebuffing international calls for a ceasefire while defending Israel's offensive in Gaza.
Netanyahu appealed for sympathy for Israelis under siege from militant rockets as a warning siren followed by an all-clear signal punctuated his interview on CBS' "Face the Nation."
"When we began this interview we were under bomb alert and as the minutes passed now we're told people can go out into the open air again," he said.
"This is the kind of reality we're living in. And we'll do whatever is necessary to put an end to it," he said, referring to the escalating violence between Israel and Hamas, the Islamist movement that rules Gaza.
Netanyahu urged Americans to imagine that US cities from the East Coast to Colorado, or 80 percent of the population, were under threat of rocket attack, with only 60 to 90 seconds to reach a bomb shelter. "That's what we're experiencing right now, as we speak," he said.
Netanyahu placed the blame for civilian casualties in Gaza solely on Hamas, because it was embedding rockets and command posts "in homes, hospitals, next to kindergartens, mosques."
"So naturally, they are responsible for all the civilian deaths that occur accidentally," he said. "We're sorry for any accidental civilian deaths, but it's the Hamas that bears complete responsibility for such civilian casualties."
Netanyahu, however, refused to discuss a ceasefire or give a timeline for Israel's operation in Gaza.
Asked if a ground invasion was imminent, he said Israel would use any means necessary to accomplish its goal of degrading Hamas's rocket-launching capability to restore security for Israeli civilians.
"Whether we're at the beginning of the end or the end of the beginning I'm not going to tell you that right now - because we face a very, very brutal terrorist enemy," he said on "Fox News Sunday."
As international pressure built for restraint, Netanyahu said he had spoken with US President Barack Obama and other world leaders who understood Israel's need to defend itself.
"We'll do what is necessary," he said. "What any country would do: What the United States would do, what Britain would do, what France would do, and many, many other countries."
Former US Middle East peace envoy Martin Indyk said he did not think Netanyahu wanted a ground war in Gaza. "What he wants is an end to the rocket fire, and he's looking for ways to pressure Hamas to do that," Indyk said on NBC's "Meet the Press."
"But he's a very cautious man when it comes to using force and I think he's very reluctant to go in. And in a sense Hamas knows that," said Indyk, a former US ambassador to Israel. "So the bluff of mobilizing all of these tanks is not working in terms of getting Hamas to stop the firing."
Secretary of State John Kerry spoke with Netanyahu by telephone, telling him the United States was prepared to broker a ceasefire, a senior State Department official said.
US-led peace talks between Israel and the Palestinians collapsed in April. Indyk, who stepped down shortly afterward, said Washington should continue to press for a ceasefire.
"The problem is how do you get Hamas to agree to a ceasefire," he said.
Reuters and AFP contributed to this report.