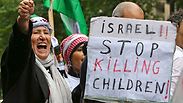 Pro-Palestinian rally in Paris
Photo: AP
A protest pro-Palestinian rally in Paris ended in violence on Sunday, with protesters trying to storm two synagogues in the French capital. Six police officers and two members of the local Jewish community were wounded in scuffles.
The rally start with several thousand demonstrators walking calmly through the streets of Paris behind a large banner that read "Total Support for the Struggle of the Palestinian People". Protesters also carried Palestinian flags and a large mock-up of a rocket, on which was written "resistance".
But clashes erupted at the end of the march on Bastille Square, with people throwing projectiles onto a cordon of police who responded with tear gas. The unrest continued early Sunday evening as police announced six arrests had been made.
Related stories:
A small group tired to break into two synagogues in central Paris, a police source said. Riot police dispersed the group, with two members of the Jewish community and six officers slightly injured in the ensuing scuffle, the source said.
French Prime Minister Manuel Valls condemned the attempted synagogue attacks "in the strongest possible terms".
"Such acts targeting places of worship are unacceptable," he said in a statement.
'Profoundly shocked'
"I am profoundly shocked and revolted. This aggression towards the Jewish community has taken an absolutely unacceptable turn," Joel Mergei, president of the Israelite Central Consistory of France, told AFP.

Paris Mayor Anne Hidalgo called for "calm in the face of tensions" in the Middle East.

In the northern city of Lille, meanwhile, between 2,300 and 6,000 people protested peacefully, according to differing figures provided by the police and organizers.

"I came to say no to this massacre," Amid Hamadouch, 30, told AFP at the Paris protest while it was still peaceful, with a sticker reading "Boycott Israel, Racist State" on his jacket.

"They are bombing innocent people. There are missiles being launched by Hamas, but the Israeli response is disproportionate. They are attacking the civilian population and not Hamas officials."

The crowd, very young, shouted slogans such as: "We Are All Palestinians!" and "Only One Solution, End the Occupation!"

Many protesters carried banners on which they had stuck photos taken from the Internet, reportedly showing Palestinian children killed or injured, houses razed to the ground or clouds of smoke emerging from bombed districts in Gaza.

In Los Angeles on Sunday, a pro-Israel rally turned violent when a handful of men carrying Palestinian flags and sticks allegedly attacked rally participants, the Los Angeles Jewish Journal reported.

The report quoted the Los Angeles Police Department as saying that more than 1,200 people had attended the rally. Meanwhile, the Journal said, a 200-strong pro-Palestinian counter protest took place nearby.

The report also quoted witnesses as saying that several pro-Israel protesters were hit by sticks.

The latest round of violence between Israel and the Palestinians began on June 12 when with kidnap and murder of three Israeli teenagers, triggering a major military crackdown on Hamas in the West Bank and an escalation of rocket fire on Israel from Gaza.

The brutal revenge killing of a Palestinian teenager by Jewish extremists on July 2 added further fuel to the fire, turning into an all-out conflict on July 8 when Israel launched an air campaign against Gaza militants.

The Palestinian death toll from Israel's air campaign has hit 168.

Israel has been pounded by more than 700 rockets since the fighting began, around 160 of which have been intercepted by the Iron Dome missile defense system. Israel has warned that it could launch a ground operation to halt the massive rocket fire launched from Gaza.