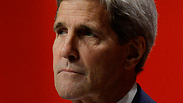 US Secretary of State John Kerry to meet Egyptian president
Photo: EPA
Egypt raised a proposal for a ceasefire between Hamas and Israel Monday night and Arab media has claimed that both Israel and Hamas have accepted the deal.
According to initial reports, the deal stipulates an end to all aggressions as of 9am Tuesday morning and according to Al Arabiya, both Israel and Hamas agreed. A senior source in Israel's Cabinet confirmed that the deal was "serious."
The news came amid reports that US Secretary of State John Kerry will arrive in Egypt Tuesday for an unplanned meet with senior government officials. Cairo proposed the ceasefire shortly before the opening of a meeting of the Arab League Foreign Ministers who convened in Cairo to discuss the Gaza conflict.
Late Monday, Egypt's Foreign Ministry announced a three-step plan starting with a temporary cease-fire to go into effect within 12 hours of "unconditional acceptance" by the two sides. That would be followed by the opening of Gaza's border crossings and talks in Cairo between the sides within two days, according to the statement.
In a speech broadcast on Al-Jazeera, Ismail Haniyeh, a Hamas leader in Gaza, confirmed that there was "diplomatic movement." He said Hamas was seeking not only an end to the fighting, but also an easing of a blockade that has crippled life in Gaza.
"The problem is not going back to the agreement on calm because we want this aggression to stop," he said. "The problem is the reality of Gaza, the siege, the starving, the bombing ... The siege must stop and Gaza people need to live in dignity."
Related stories:
Egyptian paper Al-Youm Al-Sabee purported to publish the details of the deal. According to the report in Arabic, Israel will stop its aerial and naval attacks on Gaza, specifically refraining from any ground incursion into the strip.
Hamas for their part will rein in the Palestinian factions, and work to put an end to all types of attacks on Israel, including by rockets, sea or even underground tunnels; specifically attacks on civilians and the border region between Gaza and Israel.
According to the report, the two sides also agreed to increase the flow of goods into Gaza, as well as the gradual opening of the crossings into Gaza, in return for calm. However, further details regarding security arraignments are still supposed to be discussed.
The ceasefire is supposed to come into effect 9 am (Israel time, 6 am GMT) and is expected to be followed by a 12 hour lull in aggressions. Within 48 hours delegations will meet under Egyptian auspices to continue discussions.
In accordance with the formula reached at the end of Operation Pillar of Defense in November 2012, which was also brokered by Egypt, the two sides will not meet directly, but through mediators, and will commit to halting unilateral actions which could harm talks, with Egypt reportedly receiving assurances from both sides promising as much.
US urges calm as Kerry set to visit area
Meanwhile, the US warned against any ground invasion by Israel of the Gaza Strip, and said such a move would put even more civilians at risk than are currently in the crossfire of attacks on Hamas.
But the White House stopped short of criticizing Israel over the civilian toll so far in Gaza of the offensive, saying the government had a "right" and "responsibility" to defend their citizens against rocket attacks.
Kerry is set to arrive in Egypt on Tuesday for an unplanned meet with senior government officials, regarding attempts to end the fighting between Israel and Hamas in Gaza, Egyptian media sources reported Monday. Meanwhile, Hamas set out its terms for a ceasefire, but said a deal was not close.
Meanwhile, President Peres was set to meet Tuesday with International Quartet Special Envoy Tony Blair, his office announced.
Arab League foreign ministers will also meet in Cairo later Monday to discuss Israel's offensive in Gaza Strip. The Arab League meeting comes amid intense international efforts to end the conflict, and with President Mahmoud Abbas seeking UN intervention.
Hamas said Monday it would not end hostilities with Israel without concessions by the Jewish state and that no serious efforts towards a truce had been made.
"Talk of a ceasefire requires real and serious efforts, which we haven't seen so far," Hamas MP Mushir al-Masri told AFP in Gaza City. Masri said Hamas would only negotiate on the basis of a set of concessions it wants to see Israel agree to.
Those include the lifting of Israel's eight-year blockade on the Gaza Strip, the opening of the Rafah border crossing with Egypt and the release of Palestinian prisoners Israel has rearrested after freeing them in exchange for kidnapped Israeli soldier Gilad Shalit in 2011.
Egypt truce?
The proposal was expected to be discussed at an Arab League meeting of foreign ministers later Monday. US Secretary of State John Kerry and the German foreign minister, Frank-Walter Steinmeier, are expected in the region on Tuesday as well.

A senior Hamas official said the group was studying the proposal, but signaled the group is open to the ideas. "We are not begging for a cease-fire, but at the same time, we are not going to reject any understanding that can change the current living conditions in Gaza." He spoke on condition of anonymity because the group has not formally responded yet.

A source in the Egyptian president's office spoke to the local newspaper Al-Watan Monday, and claimed that Kerry was expected to meet with President Abdel Fattah el-Sisi regarding the current escalations in Gaza, though there has been no official confirmation that this was true.

The European Union said on Monday it was in touch with "all parties in the region" to press for an immediate halt to the hostilities, a day after Kerry offered to help secure a Gaza truce.

Egypt and Qatar were also involved but peace efforts were complicated by Hamas's rejection of a mere "calm for calm" in which both sides hold their fire in favor of wider conditions including prisoner release and an end to Israel's Gaza blockade.

An Egyptian-brokered truce doused the last big Gaza flare-up in 2012, and UN Secretary General Ban Ki-moon told Egyptian President Sisi in a phone call that his country is the most credible party capable of persuading both sides to stand down, an official Egyptian statement said.

But Cairo's government is at odds with Islamist Hamas, complicating a mediation bid with the group, an offshoot of the now-outlawed Egyptian Muslim Brotherhood.

Hamas and Islamic Jihad, the second-most potent Gaza faction, have made clear a ceasefire must include an end to Israel's Gaza blockade and a recommitment to the 2012 truce agreement.

In addition, Hamas wants Egypt to ease restrictions it imposed at its Rafah crossing with the Gaza Strip since the military toppled Islamist president Mohamed Morsi last July.

Hamas has faced a cash crisis and Gaza's economic hardship has deepened as a result of Egypt's destruction of cross-border smuggling tunnels. Cairo accuses Hamas of aiding anti-government Islamist militants in Egypt's Sinai peninsula, an allegation the Palestinian group denies.

For its part, Hamas leaders said, Israel would have to release hundreds of the group's activists it arrested in the occupied West Bank last month while searching for three Jewish seminary students who it said were kidnapped by Hamas.

Roi Kais and Reuters contributed to this report