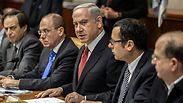 Cabinet meeting
Photo: EPA
US Secretary of State John Kerry condemned Hamas militants on Tuesday for firing rockets from the Gaza Strip, after Israel had accepted a truce proposed by Egypt.

"I cannot condemn strongly enough the actions of Hamas in so brazenly firing rockets, in multiple numbers, in the face of a goodwill effort (to secure) a ceasefire," Kerry told a news conference in Vienna.

He said the international community strongly supported the need for a ceasefire, as there was "the potential of an even greater escalation of violence".

"We don't want to see that, nobody does... But Israel has the right to defend itself," Kerry said.

Kerry said: "We urge all parties to support this ceasefire."

Prime Minister Benjamin Netanyahu said Tuesday that Hamas' rejection of the cease fire "gives Israel full legitimacy to expand the operation to protect our people."

"We agreed to the Egyptian proposal in order to give an opportunity for the demilitarization of the (Gaza) Strip - from missiles, from rockets and from tunnels - through diplomatic means," he told reporters during an earlier press conference with German Foreign Minister Frank-Walter Steinmeier.

"But if Hamas does not accept the ceasefire proposal, as would now seem to be the case, Israel would have all international legitimacy to broaden the military operation to achieve the required quiet."

Hamas rejected the Egyptian proposal, saying Cairo did not consult the group over the deal. The organization's armed wing, the Izz ad-Din al-Qassam Brigades, rejected the offer completely, saying it was "a surrender" and "wasn't worth the ink it was written with."

About an hour after the cabinet agreed to the truce, Code Red sirens sounded in Ashkelon and nearby regional councils. Two rockets landed outside a community in Eshkol, and were followed by additional barrages of rockets.

Yisrael Beiteinu chairman, Foreign Minister Avigdor Lieberman, voted against accepting the ceasefire proposal, as did Bayit Yehudi leader Naftali Bennett. Voting in favor of the offer were Prime Minister Benjamin Netanyahu, Defense Minister Moshe Ya'alon, Finance Minister Yair Lapid, Justice Minister Tzipi Livni and ministers Gilad Erdan and Yitzhak Aharonovich.

Egyptian paper Al-Youm Al-Sabee purported to publish the details of the deal on Monday night. According to the report in Arabic, Israel will stop its aerial and naval attacks on Gaza, specifically refraining from any ground incursion into the Strip.

Hamas for their part will rein in the Palestinian factions, and work to put an end to all types of attacks on Israel, including by rockets, sea or even underground tunnels; specifically attacks on civilians and the border region between Gaza and Israel.

According to the report, the two sides also agreed to increase the flow of goods into Gaza, as well as the gradual opening of the crossings into Gaza, in return for calm. However, further details regarding security arrangements are still supposed to be discussed.

"If the offer is what was reported, then this is surrender. We'll intensity our fight against the enemy," the Izz ad-Din al-Qassam Brigades said in a statement.

Hamas spokesman Fauzi Barhum said that the Egyptian ceasefire offer was unacceptable. "A ceasefire without an agreement is out of the question. During a war, you don't hold your fire and only then start negotiating," he said.

Hamas official Osama Hamdan added the Egyptian initiative was a "joke."

"We did not receive this declared paper from the Egyptians ... which means it's an initiative for the media. It's not a political initiative," he told CNN.

The initiative was meant to "push the Palestinians into a corner and aid the Israelis."

However, Hamas didn't close the door to negotiations on ending a week of fighting that killed at least 192 Palestinians and exposed millions of Israelis to rocket fire.

The militant group appeared to be holding out for better cease-fire conditions, with senior officials saying the current proposal offers no tangible achievements, particularly on easing a border blockade of Gaza enforced by Israel and Egypt.

Hamas also wants to be recognized by Egypt as a partner in any truce efforts. Sami Abu Zuhri, a senior Hamas official in Gaza, said the movement was not consulted by Egypt.

"We did not receive any official draft of this Egyptian proposal," he said, adding that the plan, as is, was "not acceptable."

Hamas officials are weary of promises by Egypt and Israel to ease the border blockade. Such promises were also part of a truce that ended more than a week of fighting in 2012, but were quickly broken as violence flared again.

Israeli government spokesman Mark Regev warned that Israel would strike Gaza even harder if Hamas does not accept the truce.

"If Hamas rejects the Egyptian proposal, if Hamas continues to shoot rockets at Israeli cities, we are prepared to continue our military operation and intensify it as needed to protect our people," he said.

Roi Kais, Attila Somfalvi, Meir Ohayon, Eli Senyor and the Associated Press contributed to this report.