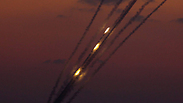 Rockets fired from Gaza
Photo: EPA
Rockets were launched from Gaza after 9 pm Tuesday night, the hour set for the failed Egyptian ceasefire initiative, as Code Red sirens sounded in the Jerusalem area in Beit Shemesh, Abu Gosh, and Mevassert Zion.
An Israeli man succumbed to his wounds after being hit by mortar fire from Gaza near the Erez border crossing. The incident marks the first Israeli death since the beginning of Operation Protective Edge.
Gaza militants launched a heavy barrage of rockets on central and southern Israel before 7 pm on Tuesday evening. Code Red sirens wailed from Netivot to Be'er Sheva, while Iron Dome intercepted two rockets over the skies of Tel Aviv. Hamas and Islamic Jihad claimed joint responsibility for four M-75 rockets fire on Tel Aviv.
Iron Dome intercepted two rockets launched from Gaza over the skies of Ashkelon and one over Netivot, as Code Red sirens blared in Netivot, Ashkelon, Sderot and the Eshkol, Sha'ar HaNegev, Sdot Negev and Hof Ashkelon Regional Councils after 5 pm on Tuesday.
Even though Israel had accepted the Egyptian truce proposal and held its fire, Palestinian factions in the Gaza Strip continued firing at Israel on Tuesday morning. An hour after the ceasefire came into effect, three rockets landed in the Eshkol Regional Council.
At 12:30pm, rocket alert sirens blared in Yavne and Rehovot, and in the Karmel outskirts - Zikhron Ya'akov, Yokneam, Mishmar HaEmek, Daliyat al-Karmel and other communities in the area. Hamas claimed to have fired an R-160 long-range rocket at Zikhron Ya'akov.
The Eshkol Regional Council was hit with one rocket at 11:46am, three at 12:20pm and two more at around 12:30pm. Two rockets were fired at Netivot at around 12:15pm, and might have been intercepted.
At around 11:20 am, Code Red sirens blared through Ashkelon, Sderot, Sha'ar HaNegev Regional Council, Ashdod, Kiryat Malachi and the Hof Ashkelon Regional Council. Rockets exploded in the yard of an Ashdod house causing damage to the structure, and in Sha'ar HaNegev, causing damage to a chicken coop. Several people were treated for shock in Ashdod. Hamas claimed responsibility for the rocket fire to Ashdod. The Iron Dome intercepted at least 6 rockets in this barrage.
Earlier, at around 7:35am, a rocket exploded in an open area in Eshkol, another hit outside a community in Eshkol just before 9am. The Iron Dome intercepted two rockets that were fired at the Hof Ashkelon Regional Council at around 8:45am.