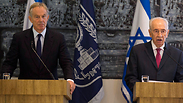 Blair and Peres
Photo: EPA
President Shimon Peres and Quartet envoy Tony Blair on Tuesday praised Egyptian-led efforts to end the fighting between Israel and Palestinian terror groups in Gaza, but both stressed that it could not replace a firm peace agreement.

Speaking after a meeting between the two at the Presidential Residence in Jerusalem, Peres said that Israel, while welcoming the opportunity to halt its eight-day operation to end rocket fire from Gaza, would not ignore attacks if the militants in Gaza chose to keep firing at Israeli communities.

Related stories:

"Israel will continue to defend itself – it is our moral responsibility and our sovereign right," Peres said. "This operation is an answer to the camp of terror. The IDF targeted hundreds of rocket launchers, training camps and tunnels (in Gaza).

"We all wish to lower the flames, we want an end to the fighting and we hope to see it soon. But there can be no compromise with terror. A ceasefire must be on these terms. No more rockets. No more terror."

The president also condemned the militant groups for heaping misery of the people of Gaza with their actions.

"The (rocket) fire until now brought nothing but death and damage," he said. "Hamas isolated itself, the world calls upon them to end the fire. If they continue despite the proposal they will only bring more suffering to their people."

The price for Hamas' policies, he said, was being paid by Gaza's children.

"The children of Gaza deserve the same opportunities as children everywhere which is to be secure and free. But Hamas continues to hold them hostage. They seek death over life. They seek destruction over growth. They act out of hate and are bringing a tragedy upon their own people."

Peres also stressed that Israel would not be defeated by the ongoing rocket fire.

"(T)he rockets did not achieve their aim," he said. "The strength of our army, our technological edge and the courage of our people allows Israel to stand strong."

Furthermore, Peres said, Israel was joined in its battle against terrorism by many nations, including more than a few states in the Middle East.

"There are two camps. The camp of terror and the camp of peace. Not only here but across the world," he said. "Many of our neighbors stand with us in this fight. It is a global threat and we must fight it globally. Terror is destroying the fabric of the Arab world, it harms those who allow it as much as those it targets."

As such, the president said, Israel must return to the negotiating table and seek a resolution to the conflict.

"A return to peace talks to achieve the only viable, long term solution - two states for two peoples," Peres said. "We stand loud and clear for peace with our neighbors. The Palestinian people are not our enemies, the people of Gaza are not our enemies. We share the same aim which is an end to terror. Security and calm for civilians everywhere."

Blair, who this week met with Egyptian President al-Sisi on an Israel-Gaza truce, hailed the efforts to restore calm to the region.

"The ceasefire is important because it gives us the opportunity to stop the tragic loss of life, the misery and the fear," Blair said.

"Over these past days as the President rightly said, people have suffered and people have suffered in a way that has brought anguish and grief to many families and I believe after the events of the last few years, not just the last few days, there is a genuine desire to make sure that we put in place a real and lasting solution to these issues," he continued. "That we don't come back again in a short period of time to more rocket attacks, to more death and to more destruction."

As such, he added, the ceasefire should be a starting point for new talks between Israel and Palestinians.

"This is not a ceasefire which then simply ends with the fact of the absence of immediate rocket attacks and retaliation," Blair said. "This … gives us the opportunity not just to cease the violence now but a genuine hope and prospect to the Gazan people and to the people of Israel that there is going to be the possibility of a real and lasting peace."

For this reason, he said, "the international community is fully behind the efforts and will continue to be so."

The former British prime minister also paid tribute to Peres, who leaves office this month, praising him as "a magnificent servant of the State of Israel" and "a striver for peace and above all else."

Blair also expressed the hope that the 91-year-old statesman would continue to work for peace for Israel once he steps down as president later this month.

"I have no doubt that when he leaves this role he will continue to play his part in peace, in bringing people together and in creating a better world," he said.