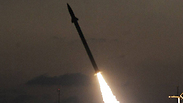 Iron Dome interceptor missile
Photo: AFP
The US Congress is showing tangible support for longtime ally Israel as Gaza militants fire rockets, backing a measure that would double the amount of money for Israel's Iron Dome missile defense system.

The Senate Appropriations defense subcommittee approved a defense spending bill on Tuesday that would provide $621.6 million for Israeli missile defense, including $351 million for the Iron Dome system that intercepts short-range rockets and mortars. In the latest hostilities between Israel and Hamas, Iron Dome has been successful in shooting down rockets and preventing Israeli deaths.

"It works," said Sen. Dick Durbin, a Democrat and chairman of the subcommittee.




Since 1988 and the early days of US-Israeli cooperation on missile defense, presidents have proposed a specific amount for the program knowing full well that members of Congress will increase the funds, especially after they hear from Israel.

Overall, the defense bill would provide $549.3 billion for the fiscal year beginning October 1. The bill spares several of the weapons programs that the Pentagon had proposed scaling back or eliminating, including the A-10 Warthog, the close air support aircraft and the USS George Washington aircraft carrier.

Durbin emphasized research and development within the military. The bill would provide $25 million to fund a competition to develop a new domestic rocket engine. Durbin said reliance on a Russian-built version made no sense.