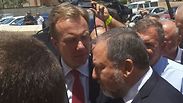 Borge and Lieberman in Ashkelon
Photo: Itay Blumental
Foreign Minister Avigdor Lieberman and Norwegian Foreign Minister Børge Brende were forced to run for cover Wednesday, when a rocket fired by Gaza militants struck a building in Ashkelon during their visit to the city.

Lieberman had taken his Scandinavian counterpart to the city, which has been battered by rockets from Gaza, and the two top diplomats ran when the siren sounded. No one was hurt in the attack. The two ministers also visited a house that was hit by a rocket earlier this week.

Meanwhile, Lieberman kept up pressure for an IDF ground operation in Gaza, which he believes is the only way to end the ongoing rocket attacks by terrorist groups on Israeli communities.

"We cannot guarantee a normal summer for our children without a ground offensive in Gaza," the foreign minister said, and repeated his implied criticism of Prime Minister Benjamin Netanyahu.

"We will do anything to ensure the safety of the people of Israel. Our goal now is to make sure our citizens lead a peaceful, routine life. My understanding is that at the moment, you cannot ensure this and you cannot ensure a normal summer for the children of Israel without a ground operation in Gaza," Lieberman told reporters.

"We don't need to control Gaza, we don't need to build settlements. We just need to make sure all of the Hamas terrorists either run away, are arrested, or killed. We cannot accept a situation in which terrorists can, at any given moment, disrupt the daily routine of 6 million people running for cover."

Asked about Netanyahu's abrupt firing of deputy defense minister Danny Danon and the friction within the government, Lieberman said: "The government speaks with one voice, and everyone wants to ensure the safety of Israel. This is the main goal. As far as the way is concerned, everyone has a different position. My position on the Gaza Strip has been clear for years."

Speaking on international pressure on Israel, the foreign minister said, "I understand that they're demanding Israel to return to the 67' lines and evacuate the settlements, and this is exactly what we did in Gaza. We evacuated the settlers, 21 settlements, and gave the key to Gaza to Mahmoud Abbas, and they responded with thousands of rockets fired at Israel. The international community supports Israel's efforts to ensure the safety of its citizens."