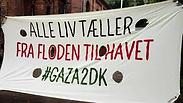 A furious row has broken out in Denmark after a church in Copenhagen placed a massive banner just outside its doors expressing sympathy for the Palestinians – using a Hamas slogan.

The banner at St. Stephen's church reads, "All Life counts / From the river to the sea / # Gaza2dk". "From the river to the sea" is a familiar Hamas refrain that calls for the eradication of the State of Israel and the establishment of a Palestinian state between the Jordan River and the Mediterranean Sea.

The phrase was used by Mohammed Deif, Hamas military commander wanted by Israel for a string of deadly terror attacks. He has been the target of several Israeli attempts to kill him, which have left him badly wounded.

The church's pastor, Pernille Østrem, told the Danish news website bt.dk that she was aware of the slogan's origins, but did not feel that it had any violent undertones.

"We have taken a line from a slogan used by Hamas and used in new context," Ostrem told the website. "It is 100 percent a message of peace, and I think that this is obvious if you read from the first word to the last. Anyone who gets a different impression is mistaken."

Furthermore, she says, "It is not a call to violence; it is an invitation to find a solution."

But the banner has sparked an outcry on Facebook, in particular on the page of pro-Palestinian activist Leila Stockmarr of Roskilde University. Stockmarr is also a signatory on an open letter by two dozen or so prominent Danish academics and artists condemning Israel for its attacks on Gaza.

The letter, which appears in liberal Danish newspaper Politiken, describes the population of Gaza as two million people "caught between the devil: between Egypt and Israel."

The letter also lays the blame for the current round of fighting solely at Israel's feet. "Israel's official strategy of cracking down on Hamas to maintain stability and keep the Palestinian population in an iron grip does not serve the interests of peace, but incites death, hatred and more division."

The letter does state that, "It goes without saying that human life on both sides of the conflict has the same value. Therefore, it should also be condemned when Hamas and other groups shoot rockets at targets inside Israel."

Furthermore, it says, Israel does have the "right to protect itself against the real security threats." However, it goes on to ask "how can the collective punishment of Gaza's civilian population serve Israeli security needs?"

"It is time we condemn Israel's disproportionate and excessive use of military force against a nation on its knees," the letter reads.