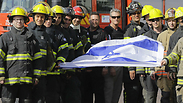 ימין אמריקאים שמאל ישראלים כבאי כבאים הגיעו מ ארה"ב ל אשדוד עזרה מבצע צוק איתן
Photo: Gadi Kablo, Yedioth Aharnoth
A special delegation of firefighters from across the US arrived in Israel with one goal: To help firefighters from Israel's rocket battered south deal with ongoing rocket fire.

Fire fighters in the south have been working ceaselessly to since fighting began ten days ago, and their mission include searching for the rockets as well as extinguishing the resulting blazes.

Between the rockets attack from Gaza and rumors of ceasefire, little attention has been paid to the plight of Israel's firefighting forces in Sderot and other southern communities, however a group called Emergency Volunteer Project aims change that and work with their Israeli counterparts.

Flying in to Israel from LA, Washington and Texas, senior fire fighters and officers from the force seemed adamant in their desire to help. "We were all part of the massive tragedy that was 9/11. There we undertook search and rescue missions. When we heard that hundreds of rockets are falling on Israel we decided to join forces and come and help," said Billy Hearst, 51, from Texas.

With the help and generous aid of the Jewish Federation of Greater Washington, they connected with the Emergency Volunteer Project, an imitative which aims to offer emergency volunteer aid, and thus they arrived at Israel.




"The rocket fired by Hamas hit homes in Ashkelon, Sderot and other communities. We have already been at scenes in a number of such communities, our mission is not simple, hard and exhausting, but we must help, the situation here is insufferable," Hearst said.

"We cannot ignore this reality, when Israeli firefighters work hour after hour to save human life," he adds.

An Israeli firefighting official praised the help, and said it was certainly needed: "These are fire fighters from the highest possible professional level," explains Reshef Tzvika Moyal, head of the Ashdod District Fire Services.

"There are officers, team leaders and fire fighters who participated in extremely complicated rescue missions," he explains. "We have distributed them across the stations facing the heaviest workload since the operation began and they are in the fire trucks and stations together with their Israeli counterparts, working side by side."

He further praised their assistance, saying the Israeli forces are benefiting from their rich experience. Similar praises were sounded in the opposite direction.

"The (Israeli) fire fighters are working like mad men, we are under constant fire and it is not easy. However, it is important for us to help these amazing Israeli forces," fire fighter Robert Katz from Washington said.

Head of the Emergency Volunteer Project, Adi Zehavi, said Wednesday that in addition to the 13 already in Israel there are no less than 30 more elite fire fighters in the US, waiting to come to Israel.

According to him they will arrive in upcoming day, "We cannot sit idly by in the US while here in Israel there is war for ten days straight," Hearst summarizes.