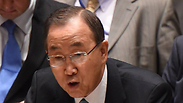 United Nation Secretary-General Ban Ki-moon on Thursday urged Israel to "do far more" to spare Palestinian civilians after it launched itground offensive in Gaza.
Israel launched its ground operation in Gaza on Thursday night, at the close of the tenth day of Operation Protective Shield, aimed at halting rocket fire from the Hamas-ruled coastal strip on Israeli communities.
"I regret that despite my repeated urgings, and those of many regional and world leaders together, an already dangerous conflict has now escalated even further," Ban told reporters.
The UN chief described as "appalling" the death of four boys killed by Israeli strikes Wednesday on a Gaza City beach.
"I urge Israel to do far more to stop civilian casualties. There can be no military solution to this conflict," he said.
French Foreign Minister Laurent Fabius said Thursday that he was extremely worried by the ground offensive in Gaza, and called on Israel to show the utmost restraint.
Fabius, who will meet Palestinian Authority President Mahmoud Abbas and US Secretary of State John Kerry in Cairo on Friday during a three-day trip to the region to secure a "lasting ceasefire", said it was vital to protect civilians and avoid new victims.
"France is extremely concerned by the Israeli decision to launch a ground offensive in Gaza. It calls on Israel to show the utmost restraint," Fabius said in a statement.
The Obama administration also criticized Israel earlier Thursday for failing to do all it can to prevent civilian casualties in Gaza.
Noting the deaths a day earlier of four boys who were killed on a Gaza beach by an IDF strike, the State Department said the high civilian death toll in Gaza has been "heartbreaking." Three more children were killed in Gaza on Thursday. More than 200 Gazans have been killed and hundreds more wounded since the IDF began Operation Protective Edge ten days ago. .
State Department spokeswoman Jen Psaki also criticized Hamas militants in Gaza who continue to fire rockets and mortars into Israel.
I don't think we've made any secret about our strong concern about the actions of Hamas, the indiscriminate rocket attacks, the targeting of civilians," Psaki said. "And that concern remains."
Of the Gaza beach attacks that killed four cousins on Wednesday, Psaki called the attack "horrifying."
"The tragic event makes clear that Israel must take every possible step to meet its standards for protecting civilians from being killed," Psaki said. "We will continue to underscore that point to Israel."
Asked if the US believes Israel has not done enough to prevent civilian casualties, Psaki said: "We believe that certainly there's more that can be done."