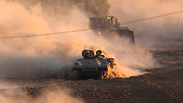 The IDF began mobilizing large forces near the Gaza border on Saturday afternoon, for a possible expansion of its ground operation inside the coastal Strip hours after unearthing a series of tunnels believed for suspected use in terror attacks.
Israel sent its ground troops into the area late Thursday night, after the aerial bombardment stage of what it calls Operation Protective Edge failed to halt rocket fire on its southern and central communities. Israel says it has encountered little resistance on the ground so far, and has killed about 20 militants in sporadic gunbattles.
But two IDF soldiers were moderately wounded Saturday when troops traded fire with Palestinian snipers in the northern Gaza Strip. The two were taken to the Soroka Medical Center in Be'er Sheva.
Meanwhile, IDF soldiers in tanks and bulldozers dug in across a mile-wide strip of eastern Gaza on Saturday. The military said its engineers were concentrating on an effective buffer-zone 2.5 km (1.5 mile) wide and were looking to destroy the tunnels dug in secret by Hamas after the last major fighting there in 2012.
The IDF acknowledged that there was a de facto buffer zone in eastern Gaza, but said other military operations continued. IDF Spokesman Brigadier General Moti Almoz also signaled that the forces conducting the unearthing mission would not stay permanently.
IDF spokesman, Lt. Col. Peter Lerner said 13 tunnels, at least one of them 30 meters deep, and 95 rocket launchers were found and destroyed since the Gaza ground incursion began. The military also said it had thwarted a second infiltration attempt through such a tunnel, killing one militant and forcing the others to return to Gaza. On Saturday morning, a terrorist was killed in the Eshkol region of Israel after infiltating from Gaza.
"We have struck hard on the two main strategic assets of Hamas: the rockets and these tunnels," Lerner said. Searches were continuing in what he described as an open-ended mission that had "severely impeded Hamas capabilities".
"I can't promise that when we leave the territory we will have exposed all of the tunnels," he told Army Radio.
The IDF said Saturday that in 12 days of fighting, it has hit 2,350 targets in Gaza, including 1,100 rocket launchers. Three new entrances to tunnels were uncovered on Saturday, as a senior army source described the harsh blow the IDF has dealt Hamas' tunnels.
IDF destroying terror tunnels in Gaza (צילום: דובר צה"ל )
"In less than 24 hours, Hamas lost 13 tunnels and the IDF has seized control of all 13," the source said, adding that some of the tunnel mouths were on the other side of the border inside Israel.
The army was still scanning the tunnels, and it was unclear whether these were 13 separate tunnels, or whether some were simply branches of others. It also remained unclear how many of these tunnels ended inside Israel.
"It's hard getting to the entrances to these tunnels, some are in greenhouses and others in houses. Intelligence is working on this," the source continued.
"We're cautiously speaking about taking away Hamas' ability to dig tunnels. These tunnels are just a part of Hamas' defenses, but it is the apple of their eye," he added.
IAF bombs terror tunnel (צילום: דובר צה"ל )
Wounded soldiers
Three IDF soldiers were wounded overnight Friday, one of them seriously. The other two were light-to-moderately wounded.
The soldiers were wounded in a skirmish with armed terrorists in the northern Gaza Strip. The soldiers stormed the house of a terrorist in Beit Lahia and were hit by an anti-tank missile in the exchange of fire. The terrorist who opened fire was shot and killed by the troops.
The wounded soldiers were evacuated to the Sheba Medical Center in Tel HaShomer and to the Barzilai Medical Center in Ashkelon.
The Sheba spokesman's office said that after the seriously wounded soldier underwent surgery, his condition was updated to moderate.
More than 300 Palestinians killed
After 45,000-50,000 Palestinians in northern Gaza have already heeded the army's warnings and evacuated their homes, the IDF was set to warn residents in Khan Younis, Al-Mawasi and Bureij to leave their homes ahead of the extension of IDF activity in the area.
Nine Palestinians were killed in Israeli bombing across the Gaza on Saturday afternoon, raising the toll in 12 days of violence to 333, medics said.
The new deaths included a fifth member of the Zuweidi family killed in northern Gaza's Beit Hanun, and three men killed in nearby Beit Lahia, emergency services spokesman Ashraf al-Qudra said. Four other members of the Zuweidi family had been reported killed earlier.
Another man was killed in a separate air strike in Beit Lahia, along with one person killed in the Qarara area of southern Khan Younis. And three men were killed in an air strike in central Gaza, he said.
Seven were killed in an IDF attack while leaving a mosque in Khan Younis. Twenty others were wounded in the attack.
Another was killed in Khan Younis, one in Beit Hanoun and a third in Deir al-Balah.
On Saturday morning, the bodies of 10 Palestinians were recovered from the rubble of a Gaza home in an area east of Khan Younis that was bombed by the IAF, Gaza emergency services said.
One Palestinian was killed, and several others wounded, in an IAF strike on a car in al-Qarara village in Khan Younis at 12pm Saturday. Earlier, one Palestinian was killed and seven others were injured by IDF raids on Beit Hanoun. Three Palestinians from the same family were also killed in an IDF attack in Beit Hanoun.
Since the beginning of the ground offensive on Thursday night, the IDF has attacked 260 targets, among them weapons caches, launching sites, tunnels, houses of terror operatives that serve as command and control centers, and others.
IDF targeting rocket launcher (צילום: דובר צה"ל )
In total, since the beginning of Operation Protective Edge, the army has struck 2350 targets, some 1100 on hidden rocket launchers and 215 of them command and control centers.
In addition, 21 Hamas and Islamic Jihad terrorists have been arrested and taken for questioning by the Shin Bet and other security forces. At least 17 were killed in fire exchanges with the IDF.
At present, according to reports in the foreign press, IDF troops are not yet deep in urban areas. They are mostly operating in open areas about a kilometer and a half north, south and east of Gaza City.
The troops encountered armed Palestinians in several incidents and has been exchanging fire with them near Beit Lahia in the northern Gaza Strip.
The army has been shooting flares to light up the Gaza sky overnight, and continuing airstrikes across the Strip.
AFP and Reuters contributed to this report.