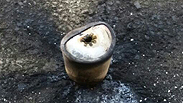 Rocket strike in Eshkol
Photo: Eshkol Regional Council
One person was killed and three others were wounded near Dimona at around noon Saturday by a rocket barrage from the Gaza Strip.

The four, including a baby and small boy, are all members of the same family from a local Bedouin community. They were taken to hospital in Dimona by relatives after the strike, and the 32-year-old man died shortly after arrival. The man was later identified as Aluj Aday, 32, from one of the Bedouin villages in Israel's Negev desert region,



Of the wounded, a five-year-old boy sustained light wounds, a four-month-old baby is in serious condition and a woman suffered moderate wounds. The children were taken to Soroka Medical Center in Be'er Sheva for further treatment.


Israel's southern residents have been under heavy rocket fire throughout Saturday, with sirens wailing every few minutes, and the Iron Dome missile defense system repeatedly in action.

Four rockets also fell in open areas of Dimona on Saturday morning, causing no injuries. In Eshkol Regional Council, a rocket struck a building at around 11am, causing a fire to break out. At around 3pm, four rockets struck open areas in the Eshkol region, which Saturday was the target of an infiltration attempt by terrorists from Gaza

Also Saturday morning, a rocket fell in an open area in Sdot Negev. Another hit a chicken coop in Hof Ashkelon.

The attacks came hours after Ashdod residents were targeted in an overnight rocket barrage. The coastal city was awakened by the Code Red siren at around 2:55am, The Iron Dome missile defense system intercepted four rockets. A fifth rocket exploded on a road in a residential area, causing light damage. No one was hurt in the attack.

Earlier, the Code Red siren was sounded in Sdot Negev and the Hof Ashkelon regional councils. The residents of Hof Ashkelon were also awoke to the sound of the Code Red alert on Saturday morning.




Since the beginning of the IDF's ground offensive in Gaza on Thursday night, 135 rockets have been launched at Israel, among them 48 intercepted.