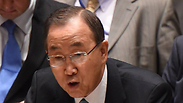 UN Secretary-General Ban Ki-Moon
Photo: AFP
Egypt has no plans to revise its ceasefire proposal to end fighting in Gaza between Israel and the Palestinian militant movement Hamas, which has rejected the initiative, Cairo's foreign minister said on Saturday.

"It provides the needs of all sides and we will continue offering it and we hope to get their support as soon as possible," said Sameh Shukri at a news conference with his French counterpart Laurent Fabius.

Fabius said that a ceasefire in Gaza was "urgent and compelling," reaffirming its "support" for the Egyptian initiative for a truce between Israel and the Palestinian Islamist movement Hamas.

The comments were made after Fabius held talks with Egyptian President Abdel Fattah al-Sisi on the Gaza crisis.

Related stories:

Meanwhile, UN Secretary-General Ban Ki-moon was on his way to Israel to help end the conflict in Gaza between Israel and Hamas.

At an emergency UN Security Council meeting, Under-Secretary-General for Political Affairs Jeffrey Feltman said a cease-fire is "indispensable." But the only way to make it stick is for the international community to "assume its responsibility to urgently help restore a serious prospect for a two-state solution that brings an end to the decades-long conflict and occupation," he said.

The UN chief has been on the phone with many leaders since the beginning of the conflict trying to bring an end to the violence. His new diplomatic initiative follows a failed attempt by Egyptian President Abdel-Fattah al-Sisi to broker a return to the 2012 Israeli-Hamas cease-fire and Thursday's launch of an Israeli ground offensive in Gaza.

In a flurry of diplomatic activity, Feltman said Palestinian Authority President Mahmoud Abbas and al-Sisi reportedly agreed at a meeting in Cairo Thursday on the need for an immediate cease-fire and the urgency of a donors' conference to start rebuilding the Gaza Strip. Abbas was scheduled to arrive in Turkey on Friday to meet the country's president and prime minister to press for help in ending the crisis, he said.

The UN refused to say where Ban was heading on Saturday, but Feltman said he wants to "express solidarity with Israelis and Palestinians," so he will almost certainly visit both places, though almost certainly not Gaza for security reasons. The UN chief also plans to in work coordination with key regional and international players, he said.

"Israel has legitimate security concerns, and we condemn the indiscriminate rocket fire from Gaza into Israel that ended Thursday's temporary ceasefire. But we are alarmed by Israel's heavy response," Feltman said.

In the event of a cease-fire, Feltman said, Abbas has indicated he would be willing to redeploy Palestinian Authority forces to the so-called "Philadelphi corridor," a route along the Gaza-Egypt border that has been used by Hamas militants to smuggle weapons into the territory. That would enable the reopening of the Rafah border crossing - a key Palestinian demand - Feltman said, but it was unclear whether having the crossing supervised by Palestinian Authority troops would be acceptable to Hamas.

The Palestinian UN ambassador, Riyad Mansour, threatened to go to UN and international courts, which would likely include the International Criminal Court, if the Security Council fails to take action to end Israel's "crimes and violations against our people."

He urged the Security Council to adopt a resolution condemning "the Israeli aggression" against civilians in Gaza and calling for an immediate cease-fire, the lifting of the Israeli "blockade" on the Gaza Strip, and the protection of the Palestinian people.

The draft resolution, obtained Friday evening by The Associated Press, also calls for "all necessary measures to ensure the protection of civilians, including the immediate cessation of military reprisals, collective punishment and excessive use of force against the Palestinian civilian population."

It stresses the immediate need for humanitarian aid for the Palestinians and calls for urgent efforts" to reach a peace agreement based on a two-state solution. It does not mention Hamas.

Such a resolution would face a difficult time winning approval from the United States, a veto-wielding council member.

The Israeli campaign, Mansour said, is aimed at destroying "Palestinian unity and collapse of the national consensus government." Hamas, which controls Gaza, and Abbas' moderate Fatah party recently formed a unity government.

Israel's UN Ambassador Ron Prosor said that in the face of terrorist kidnappings, rockets raining down on citizens and jihadists tunneling under its borders Israel was left with no choice but to enter Gaza "to restore a sustained quiet to the people of Israel while degrading Hamas' terror capabilities."