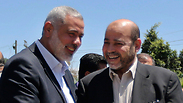 Former Hamas PM Ismail Haniyeh and Mousa Abu Marzook
Photo: Reuters
Palestinian President Mahmoud Abbas will meet with Hamas political bureau chief Khaled Mashal in Doha Sunday to hold talks to bring an end to the fighting in Gaza, AFP reported. It was the first time Hamas nammed Abbas as involved in the talks.

After Egypt stressed on Saturday that it had no intention to revise its ceasefire initiative, Hamas rejected Cairo by releasing its own initiative, backed by Qatar and Turkey.

Meanwhile, France's Foreign Minister Laurent Fabius said after talks with Prime Minister Benjamin Netanyahu on Saturday that attempts to reach a ceasefire had failed.

Fabius, who flew to Israel after talks in Egypt and Jordan, told reporters after meeting with Netanyahu.

"Sadly I can say that the call for a ceasefire has not been heard, and on the contrary, there's a risk of more civilian casualties that worries us."

UN Secretary-General Ban Ki-moon plans to travel to the region this weekend as part of a growing international efforts to end hostilities, while French Foreign Minister Laurent Fabius met officials in both Egypt and Jordan to discuss the crisis.

Qatari newspaper al-Arabi al-Jadeed detailed the proposal that was similar to the one made public earlier this week, however, later reports claimed that Qatar had back tracked from its initial position, and is now backing a new Egyptian proposal.

Related stories:

The paper reported that the initiative was based on "Palestinian consensus," and was passed by Qatar to US Secretary of State John Kerry to pass on to Israel. Israel, however, denied having received such a document.

In the meantime, Egypt seems to decided to attempt to bring Hamas to the table and have reportedly invited Hamas political bureau chief Mashal to Cairo for a visit during which it will propose a new initiative for a ceasefire with Israel.

The initiative reportedly includes ensuring Israel's security through cooperation with international parties while at the same time relieving the siege of Gaza, one of Hamas' top demands, the Egyptian newspaper Al-Shuruk reported.

According to the report, Egypt delivered a message to Hamas that it is willing to release several Hamas prisoners as part of the ceasefire deal.

Egypt slammed Hamas after the organization rejected the Cairo truce initiative, and held the group responsible for the death of dozens of Palestinians.

"If Hamas had accepted the Egyptian proposal, it could save the lives of at least 40 Palestinians," Egyptian Foreign Minister Sameh Shoukry said, according to official news agency Mena.

Despite giving Egypt the cold shoulder by turning to Qatar and Turkey for help in mediation, Hamas senior official in Cairo, Mousa Abu Marzook, was trying to cool the tensions.

"There is communication with Egypt. There are no ceasefire negotiations at the moment, but rather an exchange of opinions," Abu Marzook said. He still believes Egypt is the one who can best serve as a mediator in this conflict.

He noted Hamas had no choice but to continue fighting at the moment. "We want to achieve something for the Palestinian people in Gaza. We don't want to go back to square one."
Hamas' terms
1. An immediate ceasefire of both sides.
2. The halt to military and security attacks of all kinds from both sides.
3. Israel will commit itself to completely lift the land and sea blockade of the Gaza Strip:
Israel will open all border crossing, as well as the Gaza Port, in order to allow the entrance of all goods, electricity, gas and any other Palestinian necessities.
12 miles will be added to the Gaza fishing zone.
Palestinians will be allowed to move freely in the Gaza border area and there will be no buffer zone.

4. A plan to rehabilitate Gaza will be put into motion.

5. Undoing Operation Brother's Keeper:
Israel will complete its obligations from the Shalit deal, including the release of Palestinian prisoners who were freed as a part of the deal and re-arrested during the West Bank operation.
Israel will end all collective punishments and actions against the Palestinians in the West Bank that were put in place since the kidnapping and murder of the three Israel teenagers.
Israel will release all of the suspects arrested during the operation, among them the Speaker of the Palestinian Legislative Council Aziz Duwaik.
Israel will allow Hamas institutes in the West Bank that were shut down during the operation to reopen.
Israel will return all public property it confiscated during the operation.

6. Israel will stop its administrative detentions policy and end punishments to Palestinian prisoners in Israeli jails.

The ceasefire will be put into effect in the following manner:
A time will be set for the understandings to come into effect.
The United States will act as guarantor to ensure the agreement is implemented according to a defined timetable, to safeguard the truce and to ensure there are no failures in the implementation of the agreement. If either side has reservations, it will turn to the United States.
Both sides will halt fire within six hours from the time the agreement is accepted.

Egyptian newspaper Aharam reported that Secretary of State Kerry will arrive in Cairo on Saturday to aid the mediation efforts.
Reuters and AFP contributed to this report