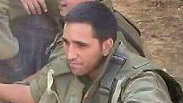 Thousands took part in the funerals held Sunday for the IDF soldiers who were killed in combat in Gaza over the weekend as Operation Protective Edge continued and expanded in the Strip.

First Sergeant Eitan Barak (20) was laid to rest in the military cemetery in his home city of Herzliya. Second Lieutenant Bar Rahav (21) from Ramat Yishai who fought in the engineer's corp. was buried in the military cemetery in Kiryat Tiv'on near Haifa.

Sergeant Adar Barsano (20) was taken to the military cemetery in Nahariya. Major Amotz Greenberg (45) was laid to rest in the military cemetary in Hod HaSharon. Sergeant Bnaya Rubel was laid to rest by family in a cemetery in his hometown of Holon.
Parting from Adar
In Nahariya the crowds gathered at the cemetery for the burial of Sergeant Adar Barsano (20) who was killed Saturday when terrorists from Gaza attempted to infiltrate Israeli territory and were met with heavy opposition from IDF troops. An army Col. eulogized Barsano saying, "We bow our heads at the death of Adar."

"His friends are fighting in the Gaza Strip and we are sure of our victory," said the Col. One of Barsano's commanders who couldn't make it to the funeral asked to pass on the message that, "I ask your forgiveness for the fact that I couldn't escort you in your final journey. You are already missing (from my life)."

A family representative, Amir Gili, also spoke and said, "We are all together, the large Barsano family, to part from the best of us, our Adar. There are people that make the sky a more beautiful thing to look at. We will never be the same. Adar is a young man with a huge soul."

Perry Shabas, Barsano's childhood friend, eulogized his friend in tears. "I pray that you're not in pain, that nothing is bad for you and that nothing can hurt you. And I know that you're angry with me. I was always at your side and this time I wasn't and I couldn't protect you with my body... You will remain engraved in my heart and won't ever leave."

Related stories:

Barsano's girlfriend Chen spoke as well. "Even in my nightmares I never dreamed that I would write a eulogy for you," she said. "You met me at age 15 and told me how beautiful I was. They told me, 'It won't last', but it was true love. You always told me that after the army we would marry."

Chen continued, "They most beautiful angel in heaven, I stand here with pride for the barrette you gave me. Who will make sure that everything will be alright? Who will call and ask if I need anything? I'm proud of you. You're our hero. My angel, take care of yourself with the most beautiful and winning smile there is. God only takes the best of us."
Bar Rahav: Commander and Leader
Thousands accompanied the family of Second Lieutenant Bar Rahav as they lay him to rest Sunday afternoon after he was killed in the Gaza Strip on Saturday when a militant fired an anti-tank missile at the vehicle he was riding in. The cemetery in Kiryat Tiv'on was scarcely large enough for the number of visitors among them Rahav's friends donning the grey Barrett of the Engineers Corp.

Rahav's commander eulogized his soldier and said that his special personality was one of a commander and leader, inspiring people to follow in his footsteps. Rahav's father Ephi, remembered his son's birthdays while the crowds cried with his mother Naama and grandmother Chana.

Rahav's uncle Moran said that when he last saw his nephew two weeks ago as his week-long leave was cut short and he returned to his unit to prepare to enter Gaza, he feared that that would be their last meeting.

"When we spoke for the last time you told me that you were going in and that you would take care of yourself. They say that twin brothers can feel with something bad happens to one of them. We aren't twin brothers, but I felt it," said Moran.

Rahav finished officer's training and was awarded the pin of a company commander, but he hadn't complete combat training normally required for a mission like the one in Gaza and was promoted to Second Lieutenant post-mortem.
"There are no words to describe our loss"
Several hundred people took part in the funeral of Bnaya Rubel in Holon. His mother Ada eulogized her son and said, "Bnaya my child, our treasure, there are no words to describe our loss. We feel like a part of our body was torn off in one moment."

"Last week we visited you at Tze'elim and we felt your safe and loving embrace. You are an example and a model. You were a leader from birth, responsible and a true patriot. You didn't falter for one moment in the face of the action that led to your death," she continued.

"Your father and I will yearn for you to the end. How will we continue without you? Bnaya, I promise that I will make every effort to sustain your will and testament to be strong even in difficult times and to protect everyone. Rest in peace my little flower."

Rubel's brother Yarin also spoke and said, "From an early age I knew that your place was in combat just like your brother. You always pursued the goal. We weren't surprised when they told us that you had joined the assault. At my wedding you won't be under the canopy, but your soul will be. You're a hero. We promise to try to be strong. I salute you dear brother, we love you."

Rubel's other brother Le'al said, "I have no way to describe the depth of pain that we're experiencing. I opened the door and received the tidings. Despite your young age I learned from you what friendship, brotherhood and sacrifice for others are. We are proud of you. Stay a paratrooper forever and may you rest in peace up there."