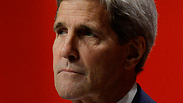 US President Barack Obama is sending Secretary of State John Kerry to Cairo to help efforts to negotiate a ceasefire between Israel and Hamas in Gaza.

Obama called Prime Minister Benjamin Netanyahu on Sunday to discuss the ongoing conflict between Israel and terror organizations in the Gaza Strip, reaffirming Israel's right to defend itself and raising "serious concern about the growing number of casualties, including increasing Palestinian civilian deaths in Gaza and the loss of Israeli soldiers," a statement from the White House said.

Kerry was set to travel to the region "to seek an immediate cessation of hostilities based on a return to the November 2012 ceasefire agreement," the statement said.

In interviews given on Sunday to American news networks, Kerry announced his upcoming trip to the region and expressed his support of Israel.

"Israel is under siege by a terrorist organization that has seen fit to dig tunnels and come through those tunnels with handcuffs and tranquilizer drugs, prepared to try to capture Israeli citizens and take them back to hold them hostage.

"No country could sit by and not take steps to try to deal with people who are sending thousands of rockets your way," he said.

"When three young Israeli kids are taken and murdered, and Hamas applauds it and celebrates the fact that they were kidnapped and supported the kidnapping, and then starts rocketing Israel when they're looking for the people who did it, that's out of balance by any standard," Kerry went on to say. "And I think it's important for people to remember the facts that led to this."

The secretary of state also recalled two instances in which rocket sirens interrupted Netanyahu's calls to both himself and the president.

"While we were talking to the prime minister, sirens went off. The prime minister of Israel had to interrupt the conversation with the President of the United States to go to a shelter," Kerry said. "This is happening to families all across Israel. Every day, they have to seek shelter."

This is Obama's second call to Netanyahu since the beginning of Operation Protective Edge. The president and prime minister spoke on Friday, while Kerry spoke to Netanyahu on Saturday.

"We're in constant conversations," Kerry said, noting he was also in touch with US Secretary-General Ban Ki-moon to discuss efforts to reach a ceasefire.

Throwing the United States' support behind the Egyptian ceasefire, the American diplomat promised to "work for a fair ceasefire."

"But they (Hamas) must step up and show a level of reasonableness and they need to accept the offer of a ceasefire, and then we will certainly discuss all of the issues relevant to the underlying crisis," he said.

"They've been offered a ceasefire, and they've refused to take the ceasefire. Even though Egypt and others have called for that ceasefire, they've just stubbornly invited further efforts to try to defuse the ability to be able to rocket Israel," he added.

On Hamas' ceasefire initiative, Kerry commented: "You cannot reward terrorism. There can't be a set of preconditioned demands that are going to be met."

Commenting on mounting death toll the conflict has claimed so far, Kerry said that while "no country, no human being is comfortable with children being killed, with people being killed," but the US was also "not comfortable with Israeli soldiers being killed either, or with people being rocketed in Israel."

The difference was that Israel, Kerry said, is warning civilians to leave areas that are about to be bombed "well ahead of time," while Hamas "uses civilians as shields and they fire from a home and draw the fire into the home."