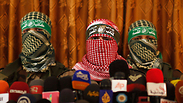 Hamas press conference
Photo: Reuters
Hamas' military wing, the Izz ad-Din al-Qassam Brigades, claimed Sunday evening that the organization had successfully kidnapped an Israeli soldier in the Gaza Strip. The militants did not present any evidence in their announcement and the IDF said that officials are investigating the issue.

In an announcement aired on Hamas' television station Al-Aqsa, the Izz ad-Din al-Qassam Brigades spokesperson said, "What the enemy isn't aware of is that it's lost one of its soldiers in action today. How can they hide the disappearance of the soldier?"

In the announcement, which led to a wave of celebrations in the Gaza Strip, the spokesperson added that, "This soldier is a captive in the hands of al-Qassam in this action. If the enemy leadership is lying about the dead and the wounded, it must give an answer to the public about the fate of this soldier now."

As stated, the militant did not produce any proof of their claims, and it may be an attempt to open a front in the arena of psychological warfare.