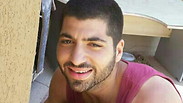 "When Oz was drafted I slightly regretted instilling the Golani in him. Maybe he should have been in the Kirya? I would have more quiet at night. But we are at peace. The great satisfaction is when he returns home after missions and training," said Ofer Mandelovitz in the past.

Those words took on a chilling meaning after the events in Shuja'iyya on Sunday, when Ofer's son Oz was killed in the Gazan neighborhood on the 13th day of Operation Protective Edge. Mandelovitz was previously interviewed in "Voice of a Mother" show on Israeli Army radio.

The funeral for the 21-year-old staff sergeant will be held on Monday at 6pm in the Misgav Regional Council cemetery.

Oz and his father, a former commander in Golani, spoke on the program about their special connection between them and their shared pride and love for the Golani Brigade.

The interviewers asked the father about the fact that, even at his age, he joined Oz's beret march at the end of his training. "From the moment he was born he was nursed on Golani," the father said.

Shir Melchinson, Oz's friend, said: "He was the heart of the group. In the army he showed no fear and was an exemplary soldier. When he went down to Gaza we changed the name of our Whatsapp group in the kibbutz to 'Ozi return home safely.' I had a twinge in my heart when I changed the name, but I hoped it would be okay and that this wish for him to return home safely would come true."

He added: "It's hard to internalize that someone so close to you is gone."