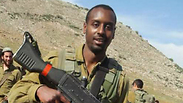 Moshe Melako
Photo: IDF Spokesperson's Unit
Staff Sergeant Moshe Melako, a 20-year-old resident of Jerusalem, was killed Sunday during IDF operations in the Gaza Strip, it was released for publication Monday morning. Melako, who served in the Golani Brigade, is survived by his parents and seven siblings. His funeral will take place at 4 pm in the military cemetery on Mt. Herzl.

Melako was raised in the Neve Ya'akov neighborhood of Jerusalem. "He went into the combat units following his brother," said his cousin. "He was a happy person. He always helped around the house and supported his family and his little twin sisters."

The family members said that Melako spoke with his mother on Friday and told her everything would be okay and that she had no reason to worry. He never spoke to her again.

Last Friday night, before he went into Gaza with his unit, Melako sent a message to Eli Fantia, a close friend. "I am sending you a message because I won't be able to talk with you for a while," he wrote. "I love you, brother. Shabbat shalom."

Family members, friends, and acquaintances of Melako said he had dreamed of enlisting in Golani – and achieved his hopes. "Moshe was an amazing person," said Eli, "He loved Golani and enjoyed what he was doing. We are deeply pained."

A family friend, Noy, who was lightly injured in the fighting, arrived at the Melako family home on Sunday. For a number of minutes Noy stood silent, finding it difficult to console Moshe's mother.

"I don't believe it," he said. "We have been friends from birth. I met him; they drove in the APC in front of us, and then happened what happened."

Rachel, a neighbor of the family, said that she knew Moshe from an early age. "This is a very special family. The family had experienced a tragic event in the past. He was an amazing man who always wanted to be one of the guys and join Golani. He was raised well and was modest and loved."

Danny Adeno Abebe contributed to this report.