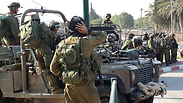 IDF troops blocking roads near Nir Am
Photo: Yoav Zitun
The Hamas terrorists who infiltrated Israel on Monday morning were wearing standard and correct IDF uniforms, an investigation into the incident found.

The terrorists, 9 of which had been killed, were carrying army bullet-proof vests, wore IDF boots with rubber bands to keep pants from snagging at anything, as well as helmets with camouflage covers very similar to the ones used by the army.

VIDEO: Terrorists infiltrators targeted by IDF (צילום: דובר צהל)

The terrorists crossed the border fence from Beit Hanoun in the northern Gaza Strip and came across an IDF force near kibbutz Nir Am.

Observation units identified the terrorists in the bushes, but the army did not open fire at them at first because they were wearing correct IDF uniforms, and the troops feared these were IDF soldiers, since many different units operate in the area.

The troops were ordered to open fire only after the terrorists started firing at them with AK-47s.

Several of the terrorists tried to run back into the Strip, but nine of them were shot down from the air.