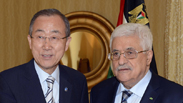 Ban Ki-moon and Abbas meet in Doha
Photo: AFP
UN chief Ban Ki-moon and US Secretary of State John Kerry arrived in Cairo on Monday to try to end the deadliest conflict between Israel and Gaza's Hamas rulers in just over five years.

Ban is expected to meet senior Egyptian officials on the Gaza crisis as part of a Middle East tour.

"If you really want to discuss all these conditions it will take a long time... I'm urging that unconditionally that violence must be stopped by both sides," said Ban.

The "violence must stop, it must stop now," Ban said at a news conference.

"I urge all parties to stop violence unconditionally and return to dialogue," he added.

After a phone call with Ban, French President François Hollande said Monday that "everything must be done to put an immediate end to the suffering of the civilian population in Gaza."
Complicated dynamic
In Washington on Monday, President Barack Obama reaffirmed his belief that Israel has the right to defend itself against rockets being launched by Hamas into Israel. Yet he contended that Israel's military action in Gaza had already done "significant damage" to the Hamas terrorist infrastructure and said he doesn't want to see more civilians getting killed.

"We have serious concerns about the rising number of Palestinian civilian deaths and the loss of Israeli lives," Obama said. "And that is why it now has to be our focus and the focus of the international community to bring about a ceasefire that ends the fighting and can stop the deaths of innocent civilians, both in Gaza and in Israel."

The Obama administration, including Kerry, is sharpening its criticism of Hamas for its rocket attacks on Israel and other provocative acts, like tunneling under the border. At the same time, the US is publicly encouraging Israel to take further steps to prevent Palestinian deaths.

White House spokesman Josh Earnest said Israel and its military have standards for avoiding the deaths of innocent civilians, Israeli or Palestinian.

"We would like to see Israel take greater steps to ensure that they're adhering to those standards," he said.

Kerry was to begin his consultations, which are expected to include meetings with top officials in Egypt and possibly elsewhere in the region, with UN Secretary-General Ban Ki-moon in Cairo on Monday night, US officials said.

He plans to stay in Cairo until Wednesday morning and has no currently scheduled end to his trip, which may also entail talks with officials from Qatar. The Gulf state has relatively close ties to Hamas and hosts its leader Khaled Meshaal.

Speaking as Kerry flew to Cairo, senior US officials stressed the difficulty of ending the conflict, noting that Egypt's current government has poorer relations with Hamas than its predecessor led by the Muslim Brotherhood's Mohamed Morsi.

"Our goal is to achieve a cessation of hostilities as soon as possible," one senior State Department official said. "We don't expect it will be easy, though. This is a very complicated dynamic."

Among the complexities are the fact that the United States has no direct contact with Hamas, which it regards as a terrorist group, and so must work through proxies, including Egypt and Qatar, which have their own tensions with the group.

Qatar was a strong supporter of Morsi's government, which was ousted by the Egyptian military and its then chief Abdel Fattah al-Sisi, who has since been elected Egypt's president.

"We believe that the effort to reach a cease-fire this time around is going to be in some ways more complicated than it was in 2012," said the US official.

"The region is more divided now than it was then," he added, referring to the "complicated relationships" of those countries believed to have some influence over Hamas. While he did not name these countries, they are widely thought to be Egypt and Qatar.
Hamas rejects unconditional truce
While both the United Nations and United States demanded an "immediate ceasefire," backing an Egyptian-proposed deal, Hamas leader Ismail Haniyeh signalled his group won't accept an unconditional truce.

Cairo's ceasefire plan is backed by the US and Israel. But Hamas has rejected the Egyptian plan and is relying on governments in Qatar and Turkey for an alternative proposal. Qatar and Turkey have ties to the Muslim Brotherhood, which is also linked to Hamas but banned in Egypt.

Hamas remains deeply suspicious of the motives of the Egyptian government, which has banned the Muslim Brotherhood, a region-wide to which Hamas also belongs.

Haniyeh said the aim of the battle is to break the 7-year-old blockade of the Palestinian territory, which was imposed by Israel and Egypt after Hamas overran Gaza in 2007. Over the past year, Egypt has further tightened restrictions, driving Hamas into a deep financial crisis.

Haniyeh said in a televised speech that "we cannot go back, we cannot go back to the silent death" of the blockade.

He said all of Gaza's 1.7 million residents shared this demand.

"Gaza has decided to end the blockade by its blood and by its courage," he said. "This siege, this unjust siege, must be lifted."

In Cairo, Ban insisted that such demands must "be raised through a dialogue, and for this, the violence must first stop."

But there are signs that Egypt, which has long regarded itself as the most effective mediator in the Arab-Israeli conflict, may show some flexibility and amend the initiative, three Egyptian officials told Reuters.

"Egypt does not mind adding some of Hamas' conditions provided that all involved parties approve," one senior Egyptian official said, without giving details.

But Egyptian Foreign Minister Sameh Shukri said Cairo has no plans to revise its ceasefire proposal, saying it guarantees the opening of border crossings between Egypt and Israel.

"The initiative clearly states that border crossings get opened after a ceasefire and when security stabilises," Shukri said at a news conference with UN chief Ban in Cairo.

Meanwhile, Hamas leader Khaled Meshaal and Palestinian Authority President Mahmud Abbas held talks in Doha, pledging to work together for a ceasefire and to lift the blockade on Gaza, officials said.

"Hamas and Abbas agreed that all Palestinian factions should work as a team towards a ceasefire," said Azzam al-Ahmed, a senior official in Abbas's Fatah party.

In Lebanon, Hezbollah chief Hassan Nasrallah offered his full backing to "Hamas's strategy" in a telephone conversation with Meshaal, describing its conditions for ending the violence as "just".