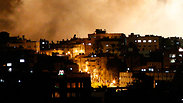 IDF shelling of Gaza
Photo: AP
The US and the UAE have pledged on Monday to send a total of $87 in aid to the Gaza Strip.
The US is sending $47 million in humanitarian aid to the besieged Gaza Strip to help tens of thousands of Palestinians there who have been forced from their homes since war broke out two weeks ago.
A State Department breakdown of the aid said nearly a third of the money - $15 million - will go to the United Nations' refugee mission in Gaza.
Since the Israeli operation began on July 8, huge numbers of Gazans have fled their homes, with more than 100,000 people taking shelter in 67 schools run by UNRWA, the UN agency for Palestinian refugees, a spokesman said.
The United Arab Emirates said it will offer nearly $41 million in aid for the reconstruction of Gaza homes hit by Israel's military offensive against rocket-firing militants.
Of that figure, 150 million dirhams ($40 million) was part of an agreement between Abu Dhabi and the Emirati Red Crescent and the UN agency for Palestinian refugees, according to the Red Crescent.
The initiative was aimed at reconstructing "damaged homes and rehabilitating hospitals, education and services" hit by Israeli military strikes in the Gaza Strip, the organization's president, Sheikh Hamdan Ben Zayed Al-Nahyan, was quoted as saying in a statement.
The UAE government already pledged $52 million in humanitarian aid for Palestinians in the coastal enclave in the early stages of the Israeli military offensive.
Hundreds of residential buildings have been damaged since July 8, when Israel launched the assault that has now killed 572 Palestinians and 27 Israelis, including 25 soldiers.