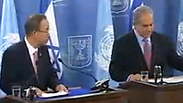 Netanyahu and Ban in Tel Aviv press conference
Photo: Arik Alon
The international community must hold Hamas accountable for rejecting multiple cease-fire offers and continuing its attacks against Israeli civilians, Prime Minister Benjamin Netanyahu said on Tuesday during a joint press conference with UN Secretary-General Ban Ki-moon.
"What we are seeing here with Hamas is another instance of Islamist extremist that has no resolvable grievance. Hamas is like ISIS, like al-Qaeda, like Hezbollah, like Boko Haram," Netanyahu told Ban, urging world leaders to deal with Hamas accordingly.
"Hamas builds terrorist tunnels under hospitals, mosques, and schools," the prime minister explained.
Hamas is "committing a double war crime. They want more civilian casualties, whereas we want no civilian casualties," Netanyahu added, saying the Islamist organization was holding the people of Gaza hostage.
"What grievance can we solve for Hamas? Their grievance is that we exist," he added.
Ban, on his part, condemned Hamas and Islamic Jihad's rocket fire, saying the rockets must stop immediately. "No country would accept the rockets raining down on its territory. All countries and parties have an obligation to protect its citizens," he said.
"We condemn the use of civilians sites, schools, hospitals and other civilian facilities for military purposes," he added.
At the same time, Ban said, "too many Palestinians and Israeli mothers are burying their children. We owe it to them to intensify our efforts to find a solution."
Repeating comments he had made prior to his visit to the region, Ban said: "My message is the same. Stop fighting, start talking and take on the root causes of the conflict so we are not at the same situation in another six months or a year. We must address these underlying issues, including occupation… so people do not feel they have to resort to violence."
He also stressed that "military actions will not increase Israel's stability in the longer term," and called for a two-state solution with the Palestinians.
Ban and Netanyahu met in Tel Aviv on Tuesday afternoon to discuss efforts to end the fighting between Israel and Hamas in the Gaza Strip.
Earlier, Ban met with Defense Minister Moshe Ya'alon in the Kirya army headquarters in Tel Aviv. Ya'alon showed the UN chief tools Hamas uses to launch rockets from schools, mosques and residential areas.
Ban was also set to meet with Foreign Minister Avigdor Lieberman to promote an Egyptian proposal to end the fighting. Hamas rejected the proposal shortly before Israel launched a ground incursion late Thursday night, as a second phase in its bid to end rocket fire on its towns and cities.
Egypt wants to restart Israeli-Palestinian peace talks
Egyptian Foreign Minister Sameh Shukri on Tuesday raised the possibility of restarting stalled peace talks between Israelis and Palestinians as part of negotiating a ceasefire to the conflict.
Shukri met with US Secretary of State John Kerry on Tuesday, after the latter was dispatched by US President Barack Obama to the Middle East to seek a ceasefire.
Egypt was key to securing an end to a previous bout of Gaza fighting in 2012, but the country's new leadership is openly hostile to Hamas, potentially complicating the negotiations.
"We hope (Kerry's) visit will result in a ceasefire that provides the necessary security for the Palestinian people and that we can commence to address the medium and long-term issues related to Gaza," Shukri said.
Shukri added he planned to work with US and other world leaders "to not only resolve this issue but also to set in motion once again the peace process that Secretary Kerry has been so actively involved in so as to end this ongoing conflict between the Palestinians and the Israelis."
Kerry said his discussions with Shukri sought to "hopefully find not only a way to a cease-fire, but a way to deal with the underlying issues, which are very complicated." But he stopped short of agreeing to reopen the peace talks that abruptly broke off last April after nearly nine months of his personal attention.
After meeting President Abdel Fattah al-Sisi of Egypt, a country which has mediated in the Arab-Israeli conflict in the past, Kerry said he had held constructive talks in a bid to end the conflict in Gaza which has killed more than 600 people.
He said he would keep working for a ceasefire in coming days, and urged Hamas to accept the Egyptian truce proposal.
"Hamas has a fundamental choice to make and it is a choice that will have a profound impact for the people of Gaza," Kerry said at a news conference with his Egyptian counterpart Sameh Shukri.
"The Egyptians have provided a framework and a forum for them to be able to come to the table to have a serious discussion together with other factions of the Palestinians."
Israel has signalled it is not in a hurry to achieve a truce before reaching its goal of crippling Hamas's militant infrastructure, including rocket arsenals and networks of tunnels threatening Israelis living along the Gaza frontier.
Hamas has also said it will not cease hostilities until its demands are met, including that Israel and Egypt lift their blockade of Gaza and its 1.8 million people, and that Israel release several hundred Palestinians detained during a search last month for three Jewish teenagers later found dead. Israel blamed the killings on Hamas.
"The world must understand that Gaza has decided to end the blockade by its blood and its heroism," deputy Hamas leader Ismail Haniyeh said in a televised address on Monday.
Kerry plans to stay in Cairo until Wednesday morning and has no currently scheduled end to his trip, which may entail talks with officials from Qatar. The Gulf state has relatively close ties to Hamas and hosts its leader, Khaled Meshaal.
Humanitarian truce fails
Meanwhile, reports of a humanitarian ceasefire Tuesday morning by Palestinian media failed to actualize.
Israeli sources did not confirmed the reports, but Moussa Abu Marzook, a senior Hamas official, confirmed that the UN has proposed the five-hour ceasefire, but claimed that Israel had yet to respond.
"Didn't Netanyahu say that he would accept all the demands for a ceasefire?" asked Abu Marzook, as world powers continued to press Israel and Hamas to accept the Egyptian ceasfire bid, which Hamas initially rejected.
Mohammed Nazal, a member of Hamas' political bureau in Qatar, told Hamas' official newspaper Al-Rissala that the movement does not object to a humanitarian lull of several hours, but that it would not agree to a long term ceasefire before the group's conditions are met.
Nazal denied reports overnight Monday that a humanitarian ceasefire agreement was formulated between Hamas and Israel.
The head of the Arab League made a statement insisting that Hamas receive the Egyptian drafted ceasefire agreement to end violence between Israel and Gaza.
Attila Somfalvi, Elior Levy, the Associated Press and Reuters contributed to this report