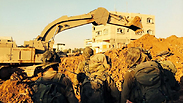 Nahal troops exposing tunnels
Photo: IDF Spokesman
As the fighting continues Tuesday in different areas in the central and southern Gaza Strip, the IDF continued focusing its efforts on locating Hamas' underground world of tunnels on Tuesday.

Must like Defense Minister Moshe Ya'alon, who said on Sunday that the operation to eradicate the tunnels could take several more days, IDF commanders' assessment on Tuesday was similar.

In the past 24 hours the troops found several tunnel shafts in one of the areas, and the objective was to try and connect them to find the main tunnel that leads under and across the border with Israel.

IDF exposes terror tunnel (צילום: דובר צה"ל)

Nahal Brigade Commander, Colonel Uri Gordin, whose troops have been operating in the Strip since the ground incursion began on Thursday night, said Tuesday that the brigade's soldiers have managed to locate most of the tunnels in their area and will destroy them.

He also noted that "most of the civilians (in the area) left so they weren't hurt. Hamas was trying to use them as human shields."

He went on to describe fighting against Hamas. The organization "prepared the urban area as a battle field and there's no urban training site that could simulate that. They tried to kidnap our soldiers unsuccessfully."

He also praised the work of the Nahal troops: "The Nahal Brigade is fighting Hamas and destroying countless terror infrastructures. The fighters are fighting fiercely. Their families have a lot to be proud of. They've been successful in eradicating Hamas' presence in the area and we will continue fighting this battle until we complete our mission."





The IDF said it exposed shafts leading to 23 tunnels since the beginning of the ground operation, and has destroyed six of them already.

A force from the Paratroopers Brigade exposed Tuesday in the southern Gaza Strip the path of the tunnel that was found leading to Israel in November 2013 near Ein HaShlosha. The troops found the tunnel with the help of intelligence, and destroyed it. The IDF said this completed the destruction of that tunnel's path.

The IDF also said it arrested and was holding for questioning 28 terrorists.