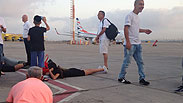 Siren forces Israelis to take cover before boarding plane
Photo: Shani Hayon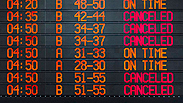 Over 80 flights canceled since FAA ban came into effect
Photo: Reuters
Air France and Germany's two largest airlines on Wednesday canceled more flights to Tel Aviv because of ongoing safety concerns amid the fighting between Israel and Hamas.

The US Federal Aviation Administration (FAA) issued a 24-hour prohibition on flights by US carriers to Israel Wednesday after a rocket fired from Gaza struck near Ben-Gurion International Airport, on the outskirts of Tel Aviv. Israeli air flight officials have said Israel could begin to divert flights to Ovda Airfield, situated in the resort town of Eilat at the southern tip of Israel.

Germany's Lufthansa and Air Berlin extended their cancelations through Thursday and Air France said it was suspending its flights "until further notice."

Polish state airline LOT also said Wednesday that it has suspended its flights to Israel from Warsaw until Monday because of concern for passengers' safety.

"This is caused by the tense situation in the region," LOT added in a statement. "The connection will be re-established as soon as possible and when we are sure that our operations are hundred percent safe."

The European Aviation Safety Agency late Tuesday said it "strongly recommends" that airlines refrain from operating flights to and from Tel Aviv. It said it would "monitor the situation and advise on any update as the situation develops."

EASA acted after the US Federal Aviation Administration prohibited American-based airlines from flying to the airport following a Hamas rocket explosion nearby. The FAA was expected to issue a new statement later Wednesday.

Lufthansa said its decision applies also to its subsidiaries Germanwings, Austrian Airlines, Swiss and Brussels Airlines. In all, 20 flights from Frankfurt, Berlin, Munich, Zurich, Vienna and Brussels were cancelled for Thursday.

The airline initially had suspended flights for 36 hours through the end of Wednesday. Those cancelations were extended because "at the current time there is no sufficiently reliable new information that would justify a resumption of air operations," Lufthansa said.

Air Berlin said it is working in close contact with authorities and is continuing to evaluate the situation regularly to determine whether further cancelations were necessary.

Among other European airlines, KLM, Alitalia and Scandinavian Airlines also canceled flights Tuesday and Wednesday, but did not immediately announce their plans for Thursday flights.

British Airways, however, said Wednesday it has not canceled any of its Tel Aviv flights and had no immediate plans to do so. The airline would not answer questions about how it had made its decision to keep flying while others were canceling, citing security reasons

Prime Minister Benjamin Netanyahu on Tuesday asked US Secretary of State John Kerry to help restore US commercial flights to Israel, an Israeli official said.

The Israel Airport Authority recommended opening the Ovda Airport in Eilat almost immediately after the announcement was made. Transport Minister Yisrael Katz agreed and said Tuesday that there was "no reason" for airlines cancel flights to Israel, and said Israel "will continue to maintain normal civic air traffic."

According to the IAA, out of the 55,000 passengers who were expected to pass through Israel's only major international airport, only 32,000 will actually land.

"Most of them are from Israeli carriers, but some foreign companies as well, the airport is still functioning," an IAA official told Ynet.

El Al has also added additional flights, but a large number of Israelis are still stranded en route to Israel after the flights were diverted, and are now grounded in cities from Berlin to Istanbul.

Former New York Mayor Michael Bloomberg is also urging the Federal Aviation Administration to "reverse course" and permit US airlines to fly to Israel.

Bloomberg said he is flying on El Al to Tel Aviv on Tuesday night to "show solidarity with the Israeli people and to demonstrate that it is safe to fly in and out of Israel."

In a statement, he says: "The US flight restrictions are a mistake that hands Hamas an underserved victory and should be lifted immediately."

An Israeli official said that Netanyahu, speaking to Kerry while the US diplomat was in Egypt trying to broker a Gaza truce, "asked him to work for the resumption of flights by American carriers to Israel."

Confirming the conversation, State Department spokeswoman Jen Psaki said the FAA notice was motivated exclusively by security concerns and was being continually reviewed.

Asked whether Netanyahu had asked the FAA to rescind the order, a senior Obama administration official said he was not aware of the request, but added: "We're not going to overrule the FAA, period."

"If the FAA says this crosses our tripwires, we're not going to say 'Don't warn civil aviation.' We understand Israeli concerns. They don't want to have a shutdown of air traffic into Ben Gurion. We can look at this every 24 hours, but (when) a rocket lands a mile from that airport, that kind of trips their wire."

The Associated Press, Gilad Morag and Adar Bendek contributed to this report.