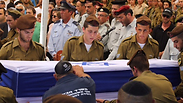 Max Steinberg is laid to rest
Photo: Gil Yohanan
More than 30,000 people attended the funeral Wednesday for fellow lone soldier Max Steinberg, who was laid to rest on Mount Herzl in Jerusalem. The overwhelming support for the 24-year-old Californian native followed online drives urging Israelis to attend his funeral.

US Secretary of State John Kerry expressed "profound gratitude" Wednesday to the Israelis who spontaneously lined Jerusalem's streets for Steinberg's funeral procession. "That's a remarkable statement - we're very grateful," he said.

Funeral for Max Steinberg (צילום: גיל יוחנן)

Most of those who attended the funeral were people who did not know Steinberg, but had answered the call to pay their respects to him. Some people turned out draped in the Israeli flag.

Among them was 29-year-old Eli Stern, from Lod, who wanted to show his appreciation for Steinberg's sacrifice.

"I came to support the family after hearing on the social networks that most of his family were not in the country. I do not know him, but I felt I had to be here, for his parents who come from abroad to feel all the people standing behind them, and that Max did not fall for nothing."

David Halvas, 27, said he had a friend in Los Angeles who knows the family, but could not get to the funeral.

"I was obliged to be here in his place," he said. "I was also at (Texan native) Sean Carmeli's funeral two days ago in Haifa. It is a show of respect for those who sacrificed their all for us."

Police estimate that more than 20,000 people also attended Monday's funeral for Sgt. Carmeli, a Golani fighter killed in Gaza this week.

Friends and family paid tribute Wednesday to Dimitri Levitas.

"He was an angel, friendly and without ego," said his friend Haggai Michaeli. Dmitri, he said, was an officer and a soldier who succeeded in everything he did.

"A few months ago he completed a course for company commanders. He had was counting on a military career and they counted on him. He recently moved to Gshur, but before that he lived with his girlfriend in Merom Golan, and there he also became one of the guys. He fitted in well here and we felt that he was one of us. He was our goalkeeper in the local soccer league. The games were on Thursdays and Saturdays, and he would come back from the army and never miss a game. We took trips in the Golan together, we would sit in my apartment - he was always great fun to be around. He was a man who loved his country, just the salt of the earth."

On Tuesday, Israel buried 13 IDF fighters who fell in Protective Edge's ground operation. Among them was Sergeant Tal Yifrach, 21, a fighter from the Egoz unit, who was buried in Rishon Lezion.

"What will become of me now? You are my light. I lost the light of my life," mourned his mother, Aviva.

Noam Bar, his girlfriend of four years, also eulogized Tal.

"It's hard to talk about you in the past tense. You are my light. My angel," she said.

Sergeant Evyatar Turgeman, 20, a paratrooper fighters from Beit She'an, was laid to rest on Mount Herzl in Jerusalem.

His brother and his father eulogized him: "Evyatar my beloved brother. I cannot believe I'm standing over your grave. How can you say goodbye to an angel like you, a boy loved by all".

His brother, Yinon, said: "I always called you 'young', and it is so painful that you will be young forever."

In Netivot, career soldier Beinisian Kashon, 39, who served in the scouts unit, was laid to rest.

"I told him, enough with Gaza," said his brother-in-law. "And you said 'don't worry I will ask for a doctor's note when I come back'. I'm trying to hold back the tears but I can't. You're a hero. You had such strength and integrity. You served in the army for 21 years , and have a wife about to give birth. How do we talk about you in the past tense? You were a brother to me."

Battalion commander Lieutenant Colonel Dolev Kedar, 38, killed in an encounter with Gaza terrorists, was buried in Modi'in. Dolev's father, Eli, read Kaddish (Jewish mourner's prayer) for his son through his tears.

Later, his wife Michal delivered an emotional eulogy.

"My baby, my funny one, love of my life and the perfect father. How can I write a eulogy when you're the one who always helps me find the right words? At every eulogy and funeral everyone turned to you to write the words."

Sergeant Ben Vanunu, 19, a Golani fighter killed in Saja'iyya, was laid to rest at Ashdod cemetery. Six Golani soldiers carried his coffin to its final resting place.

His father, Ilan, eulogized him: "Almighty watch over him," cried his father. "I know I was hard on you, but in the end you told me, 'Dad, everything is thanks to your stubbornness.' You always asked your mother what I thought of you and now I want to tell you that I was crazy about you and more than proud of you."

As with the fallen lone soldiers from the US, thousands turned out for the funeral for French-born Sergeant Jordan Ben Simon, 22, an Egoz fighter from Ashkelon. Some 6,000 people, most of them strangers, were present as he was laid to rest in the city.

Ben Simon's parents and his two sisters travelled from France for the funeral, and his relatives living in Israel expressed surprise at the amount of people and the warmth they showed.

Staff Sergeant Ohad Shemesh, 27, from Beit Elazari, was buried in Mazkeret Batya. He married his wife Hadar just five months ago, and is also survived by his parents and two siblings.

Shemesh's childhood friend recalled that he was always successful at whatever he did.

"He was enlisted in the Givati brigade and did his mandatory service in full combat. After his release from the army, he is worked on the development of young leaders. He just excelled in everything, and was also recognized by the president as an outstanding soldier. After the disaster in Haiti, he took part in an expedition there."

Sergeant Shahar Ta'aseh, 20, from Pardesiya, was laid to rest accompanied by hundreds on his last journey to the community's cemetery. Ta'aseh, who leaves behind parents and two siblings, was killed in the attack on an APC in Saja'iyya.

His mother Heidi wept as his coffin was lowered into the newly dug grave: "No, it's not you. It's not my Shahar."

Sergeant First Class Oded Ben Sira, 22, was laid to rest in the northern community of Nir Etzion. Ben Sira from the Nahal Brigade was killed in clashes in the Gaza Strip. Ben Sira was in the final months of his national service when his unit was sent to Gaza.

His girlfriend, Pua Lasri, "Oded, how many wonderings, dreams and fears we shared, trying to find logic to it all, and when we couldn't we turned to humor and songs and just being together. How do we carry on and for what? Every memory of you illuminates, and you are very much with me. "

Staff Sergeant Oren Noah, 22, Golani fighter who was also killed in the APC attack in Saja'iyya, was buried in the cemetery of the Hoshaya community in Jezreel Valley. Hundreds of people turned out for the funeral in the tiny cemetery. His father told mourners that the last phone call they shared was filled with tears and yearning.

"I gave you strength and blessed you," he said. "Our conversation was brief because I wanted you to be able to call your mother and siblings. Did you feel that this was our goodbye conversation?"

Another three soldiers were also laid to rest Tuesday.

Sergeant Nadav Goldmacher, 23, from Be'er Sheva, was buried in the city's new cemetery; Corporal Sean Mondschein, 19, from Tel Aviv was laid to rest in the cemetery in the neighborhood of Nahlat Yitzhak; Lieutenant Yuval Heiman, 21, of Efrat, was buried in the military cemetery on Mount Herzl in Jerusalem.