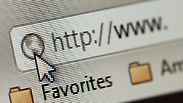 Cyber attacks on Israel
Photo: Shuttershock
Hackers from around the world,particularly in Arab states, have launched mutiple cyber attacks on Israeli websites, the Shin Bet says, in protest of the IDF's ongoing operation in Gaza.

Customers of major Israeli internet provider Netvision reported experiencing connection problems on Tuesday evening, which proved to be part of a DDOS attack, in other words, a cyber attack that cuts off service from a supplier to its customers.

"The attempted attack was handled by the company by blocking the availability of websites from abroad," Netvision said Tuesday. "It seems that as a result, some customers have experienced sluggishness in receiving emails."

The Shin Bet said that the intention of the attack was to lead to the collapse of the Internet in Israel by creating an overload on the system. The Cyber Protection Division of the Shin Bet regularly works with media companies in Israel and private sources to work against such attacks.

Doron Ofek, an information security specialist from the Digital Rights movement, explained that Tuesday's attack raised concerns regarding how such an even can be prevented in the future, but posed no legitimate security threat to Israel.

"This action, if we translate it to the real world, is like an attempt to break into a store. If we compare the internet to a store, someone tried to break into the store and was unsuccessful. The same person then called to his friends from the neighborhood and together they filled all the routes to the store so that it couldn't function," said Ofek.

"No damage was caused to the store but all those people blocking the entrance with their bodies... only when they move from the entrance will it be able to function regularly."

Meanwhile, a second, possibly more crippling attack is apparently being planned by the infamous hacker group Anonymous, known for successfully hacking into heavily secured systems for political reasons.

A video announcement from the group appeared online over the last week in which Anonymous claimed that, "This Friday will be a day in where Israel will feel fear tingling in their servers, and homes. It will be a day of solidarity and resistance."

"We are calling upon the Anonymous collective, and the elite hacker groups to join our crusade, and to wage cyber war against the State of Israel," said the threatening message.

Recent cyber attacks spearheaded by Israel's enemy in Gaza, Hamas, have also been witnessed on Channel 10 and Channel 2 news.