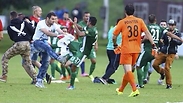 Maccabi Haifa pitch in Austria disrupted
Twitter screenshot
Anti-Israel protesters invaded the pitch and physically confronted Maccabi Haifa players towards the end of a Wednesday training match in Austria. Officials called time on the match against French club Lille at the 86th minute.

The players left the dressing room – under protection – an hour after the match ended because some protesters had remained outside the stadium.


The rioting fans tried to attack Yossi Benayoun, the national team captain, as well as other members of the squad. One player was spat on, while the coach entered the pitch to protect his players.

Crossing the Line

European foreign ministers vow to do everything possible to combat violence over Gaza conflict in their countries.

None of the players were injured. They walked to the dressing rooms as security forces cleared the protesters. One player, defender Samuel Scheimann, claimed at least one of the rioters was armed with a pocket knife.

Maccabi Haifa released a statement regarding the incident. "We experienced an uncomfortable atmosphere of violence on the pitch and in the stands. The attack was premeditated and dangerous in light of the incitement in Turkish media. (The protesters) were mostly Turkish immigrants."

In France, days after two banned pro-Gaza protests degenerated into violence, several thousands of demonstrators marched Wednesday through Paris under the eye of hundreds of riot police, this time in a legal protest.

With banners featuring slogans such as "Boycott Israel" and "Israel Murderer," demonstrators tested a government grappling with how best to allow freedom of expression while containing violence — and hate speech against France's Jews.

Jewish leaders say vocal anti-Semitic chants in previous demonstrations and several attacks on synagogues reflect rising anti-Semitism in Europe.

France has Western Europe's largest Jewish and Muslim populations, and the Middle East conflict often means rocketing tensions in France.

"Today we are here for Palestine, because we find Israel shameful, because children are dying, and it's unbearable to see all this," said Fatima El Fetoui, 56.

Wednesday's demonstrators said they were not anti-Semitic — they simply opposed Israel's actions against Gaza.

"You just need to differentiate between Jews and Israel. What we are fighting is the Zionist state. I am not fighting the Israelis," said Vincent Santoro, 24.

In two banned demonstrations last weekend, in Paris and the northern suburb of Sarcelles, groups of youths pillaged stores and attacked police.

Two synagogues in Paris were attacked July 13.

The foreign ministers of Germany, France and Italy on Tuesday condemned anti-Semitism that has marred protests against Israel's conflict with Hamas in the Gaza Strip.

On Sunday, French media showed the burnt-out front of a kosher grocery shop in the Parisian suburb of Sarcelles, which is home to a large Jewish community, and clashes between pro-Palestinian marchers and riot police outside two synagogues.

"Anti-Semitic incitement and hostility against Jews, attacks on people of Jewish faith and synagogues have no place in our societies," the three foreign ministers said in a joint statement issued in Brussels.

France's Laurent Fabius, Italy's Federica Mogherini and Germany's Frank-Walter Steinmeier said: "Nothing, including the dramatic military confrontation in Gaza, justifies such actions here in Europe."

The Associated Press contributed to this report.