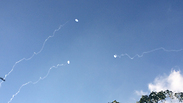 Iron Dome intercepts rockets over Be'er Sheva
Photo: Yosi Romi
Code red sirens sounded in Eilat on Thursday night at 10:10 pm, for the second time since Operation Protective Edge was first launched seventeen days ago. The Iron Dome intercepted one rocket above the city. Local residents reported hearing explosions.
Gaza rocket fire at Israel continued throughout the entire day, with one person wounded by rocket debris in Eshkol while two rockets fell in open areas in Be'er Sheva in the evening hours.
WATCH: Tourists and residents of Eilat run for shelter after rocket fired at southern resort town (צילום: שני צימר)
At 7:40 pm, the person was lightly wounded by rocket shrapnel after a greenhouse in one of the communities of Eshkol sustained a hit. A rocket also exploded in a Kibbutz in Sdot Negev. No injuries or damage were sustained.
Damage caused by rocket hit in Eshkol (Video: Eshkol Regional Council) (צילום: דוברות מועצת אשכול)
At around 7:30 pm, Code Red sirens sounded in Be'er Sheva and Bnei Shimon Regional Council, after which two rockets exploded in open areas. There were no reports of injuries or damage.
Earlier in the evening, the Iron Dome system intercepted one rocket over Ashkelon with sirens blaring in the Regional Councils of Eshkol and Sha'ar HaNegev at 7 pm.
At around 6:30 pm, rocket sirens sounded in the Regional Councils of Hof Ashkelon and Eshkol. A mortar shell exploded in an open area in Eshkol. No injuries or damage were sustained. Later on rockets were fired to the area of Ashdod as well, falling in open areas.
At around 5 pm, Ofakim was also targeted by rockets. The Iron Dome intercepted two rockets and one rocket fell in an open area in Merhavim Regional Council, while another was intercepted above Kiryat Malakhi,
Earlier Thursday morning, rocket alert sirens blared in numerous cities in central Israel and in the Sharon after a night of relative calm.
The siren was sounded shortly before 11am in Yehud, Givatayim, Ramat Gan, Holon, Bat Yam, Petah Tikva, Kfar Saba, Rishon LeZion and Ra'anana, among others. Another siren was sounded in Tel Aviv, Herzliya and Ramat HaSharon at around 11:17am.
Two rockets were intercepted by the Iron Dome missile defense system over Petah Tikva and Bat Yam in the first barrage. In a second barrage, two rockets were intercepted over Tel Aviv and a third over Bat Yam. Shrapnel from intercepted rockets were found in major roads in Tel Aviv.
Magen David Adom paramedics were treating two people who were lightly hurt while running for shelter in Ra'anana and Ramat Gan, and 7 suffering from shock in Holon, Petah Tikva, Yehud and Rosh HaAyn.


Rocket fire from the Gaza Strip resumed earlier this morning after night with almost no rockets. Shortly after 7am a rocket was fired at the Eshkol Regional Council. Two hours earlier, rockets were fired at the same area.
After 8am, rockets were fired at Hof Ashkelon and Sha'ar HaNegev regional council.