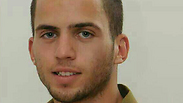 Another day of uncertainty has passed for the family of missing soldier Oron Shaul, whose body has not yet been identified after his APC was hit by a missile in Gaza.
Hamas claimed after the attack on Sunday that they had captured an IDF soldier, and named Shaul and gave his identification number. Even so, they have yet to produce any concrete proof to back up the claim that they are holding the soldier captive.
On Wednesday, his parents received visits from hundreds of Israelis who came to offer support and soldiarity. In the afternoon they were also visited by army representatives, but again there was no news.
Among the many who came to visit the Shaul family's Poria Illit home were Bat Galim and Ofir Shaer, whose teenage son Gil-Ad and two friends were kidnapped and murdered by Hamas last month, an event that triggered the current conflict.
"These are very bad times," said Bat Galim as she left the Shaul family home. "We came to offer an embrace and strength. We found a very strong family. We want to strengthen the army, the soldiers, our army. We also want to send our condolences to the bereaved families, and hope to hear good news soon. "
Ofir said that primarily it is important for the parents to be strong.
"There are no words for this feeling, which is so evocative for us. We found here a strong family, which can deal with every challenge. I think it strengthens us, the people of Israel and the army in its mission," he said. "We didn't go into the finer details in our meeting, but like them, we have our support network. Their network knows how to carry them and will carry them through."
"For the moment we have no new information about Oron, and we are in contact with the military on this issue," said his cousin, Racheli Gazit. "We were assured that once there is an update, any update, they will tell us. We trust the army in this regard. "
Racheli said she wanted to thank the people of Israel for their support. "We appreicate it, in these trying times," she said.
"We are backing the IDF, and the defense establishment, and send our sincere condolences to the bereaved families and wish the wounded a speedy recovery."