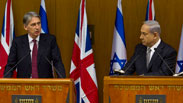 Netanyahu meeting with Hammond
Photo: Reuters
British Foreign Secretary Philip Hammond said during a brief Mideast trip Thursday that Hamas must agree to a humanitarian ceasefire without conditions in Gaza, to bring to an end more than two weeks of fighting. After that, Hammond said, said Israel and Palestinian Authority could come together to hold talks.

"Hamas must agree to a humanitarian ceasefire without preconditions for the sake of the people in Gaza," Hammond said during a news conference after meetings with Egyptian officials. "We are greatly concerned by ongoing heavy humanitarian crisis and the loss of lives."

Hammond was speaking in Cairo, his latest stop on a emergency Mideast trip as part of ongoing international pressure for the fighting between Israel and Hamas in Gaza to end. US Secretary of State met Wednesday with Prime Minister Benjamin Netanyahu after talks in Cairo. UN Secretary-General Ban Ki-moon has also paid a visit to the region in recent days.

Speaking earlier Thursday after meeting with Hammond in Jerusalem, Netanyahu slammed the UN Human Rights Council's decision to open an investigation into Israel's alleged human rights violations in the Gaza Strip.

"It's a travesty of justice; it's a travesty of fairness; it's a travesty of common sense; it's a travesty of truth," the prime minister told Hammond.

Netanyahu told the recently-appointed British foreign secretary how Hamas terrorists were firing rockets from schools, mosques, hospitals and heavily civilian populations, calling it a "double war crime."

"This use of human shields is extraordinarily cynical. It's grotesque. It's inhuman. But what is equally grotesque is that Israel was condemned in the Human Rights Council," he said.

While Israel was doing its best to minimize civilian casualties, "we cannot give our attackers immunity or impunity. We seek as best as we can to target them, but all the civilian deaths that are there – and we regret each one of them – are the responsibility of the Hamas, Hamas and the Islamic Jihad terrorists who are in league with them," Netanyahu said.

The prime minister also drew a parallel between the German blitz of London during World War II, and the constant rocket fire Israel from Gaza.

"I think you, as a representative of the UK, of Britain, have a special understanding, at least a historical understanding, of what Israel is undergoing. There's only been one other instance where a democracy has been rocketed and pelleted with these projectiles of death, and that's Britain during World War II. Israel is undergoing a similar bombardment now," he said.

Hammond stressed the need to bring the current conflict in Gaza to a quick end, laying the blame on Hamas.

"Britain has been very clear, I have been very clear, Prime Minister Cameron has been very clear, that this current cycle of violence was triggered by Hamas firing hundreds of rockets at Israeli towns and cities indiscriminately and in breach of international humanitarian law," he said.

While expressing support to Israel's right to defend itself, Hammond said Britain welcomes the ceasefire proposal by Egypt.

"We were grateful to you, Prime Minister, for your immediate agreement to it. We are disappointed that Hamas has apparently once again rejected ceasefire proposals," Hammond noted.

While in Jerusalem, Hammond also met with Foreign Minister Avigdor Lieberman, who also drew parallels to the German blitz of London.

"During one of the most difficult but greatest hours of Great Britain, when London was bombed during World War II, we learned from Churchill that even if the price is blood, sweat and tears, a nation that wants to survive must fight for its freedom," Lieberman said.

"We, too, cannot allow Jerusalem, Tel Aviv or the cities in the south to be threatened by rockets, and we must act with determination to allow the citizens of Israel the freedom to live normal lives."

Lieberman also compared Hamas' aims to those of the Nazi party - "the annihilation of the Jews," noting that "Hamas' fate and the fate of its leaders must be the same."